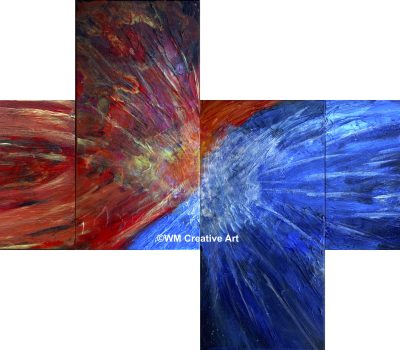 Artist Statement
I've been asked – what inspires me? – Put simply – The Universe. The Universe of the things we can see, or the things too far and too vast to see, as well as the things that are too small or uncertain to see. It amazes and inspires me to realize that which is very abstract in appearance was actually something as real as the swirling of water in an ocean wave, or the clouds of Jupiter, or millions of stars like ours that rises in the east every morning. Or the abstractness of the magnified look of our skin cells, or even the molecules which comprise what we are or what we eat. All these things are very real, but look so strange and abstract. I like to call this "Abstract Realism", and the possibilities are endless. I strive to "learn, grow, change and evolve" I've discovered genres and variations in techniques and color palettes that I experiment with in search of my own styles, methods, and creations. This is an ongoing passion of mine. I hope you'll see this reflected in both the range of ways I express my art as well as how it has, and will continue to evolve with time. I create in many media – principally with acrylic and metallics on canvas. But I've also created in watercolor, encaustic, and wood art. I love when people say they see things in the shapes and colors of my creations.
Hello, I'm Bill Mathis – artist / owner of WMCreativeArt. I create in various media but principally with acrylic paint on canvas. Others include watercolor, encaustic, multimedia, photography and wood artwork. I'm currently based in Poquoson VA. I recently transitioned to semi-retirement following a full career as an engineer, and eventually as a Senior Director of management consultants serving various Federal Government and international programs and their support contractors. Part of my semi-retirement involves continuing in that field in a lower key advisory capacity. I have been fortunate to have lived and / or worked in almost all continents, and that allowed me to explore a world of art and art galleries. From the Masters to – well – people just like me I guess…. I am self-taught as an artist. My approach to continually improving my art? – "learn, grow, change and evolve"……
Other Specialties – Custom Orders, Collaboration and Design Projects
My background prior to art was very involved with planning and undertaking project work. Basically creating or building an end-result from concept to reality. Now have started to adapt those skills to the world of specialty art projects. These cover a wide array of activities including custom order, collaboration(s), and / or Interior Design projects.
For CUSTOM ARTWORK ORDERS I work directly with the collector to define what styles, themes or series of my work suits their taste. Then we get a feel for the general colors to employ based on their existing design, color scheme and flexibility. For some custom orders I will plan to do more than a single painting to give the collector a choice. Pieces not chosen do not go to waste – they often wait for a new exhibit for displaying.
COLLABORATIONS involve combining creative skill and talent with one or more fellow creatives. For the most part this has involved collaborating for a specific exhibit theme – such as pairing 2D art with 3D art, or my visual art with writings of prose or poetry. Also – while I haven't had the opportunity to date – I would like to play a role on a collaborative team supporting an overall design project.
DESIGN PROJECT work involves working within an overall design process to support the Interior Design Lead. They follow a logical consultative process with the end Client. I lend my services at several points in the process to facilitate blending an existing or custom piece(s) of art into the design concept. My existing portfolio and the various series within it, give the Designer examples of what might fit with their Client's vision and desires.
As the Designer's process works it way toward a finished installation, my services transition from contributing ideas and examples of what is possible, to deciding the style and scale of what I will contribute. If the Designer's process involves 3-D storyboards, I provide electronic images that can be placed in the digital design space. This gives their Client a "try before buy" look at the concepts in work.
At the execution phase of the Project, my part of the overall budget will be finalized, and the criteria for acceptance determined. Like custom orders, multiple versions of an art concept can be ordered so that a final decision can be made. For Client sites within a 3 hour driving radius from my studios, my services can also include on-site installation of the final framed artwork(s) as well as occasional in-person design reviews. For longer distances, virtual support is the norm unless we've made specific provisions for travel expenses.