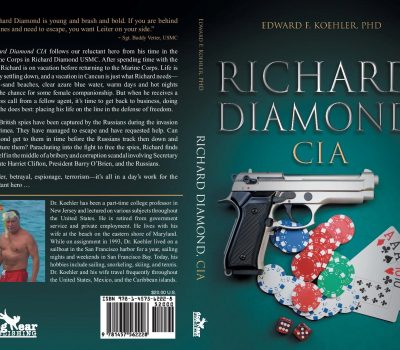 Edward F. Koehler, Ph D
Espionage, terrorist, spies, money and sex; it's all in life of a reluctant protagonist, Richard Diamond.  
Edward F. Koehler PhD, is retired from government service and private employment. He lives at the beach on the eastern shore of Maryland.  While on assignment in 1993, Dr. Koehler lived on a sailboat in San Francisco harbor for a year, sailing nights and weekends in San Francisco Bay. Dr. Koehler travels frequently throughout the United States, Mexico, and the Caribbean islands. Dr. Koehler has been a part-time college professor in New Jersey and lectured on various subjects throughout the United States. He earned his Bachelor's degree in Engineering from the University of Maryland, his Master's in Engineering from Drexel University, and his Doctorate from Cambourne University.  
Before the days of satellite photography, before the days of high altitude spy planes, men and women roamed the world taking pictures, unnoticed by the everyday traveler. Now we sit in our Adirondack chairs at the beach and type away on our laptops, reminiscing about the good old days. 
Look for Richard's next adventure, Richard Diamond RIP, coming soon to your local bookstore.