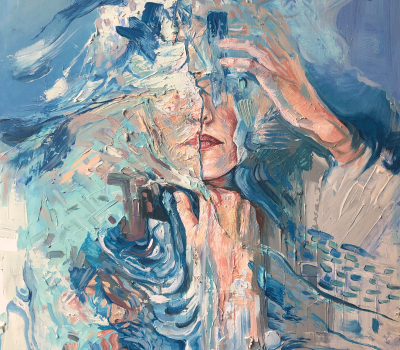 Artist Statement
My body of work is a collection of fragments from my daily experiences of living as a young LGBTQ, female artist today. The experiences that I draw from are related to LGBTQ issues, women empowerment, protection of mother nature and self-awareness/consciousness. My ever-growing connection to self-awareness has led to the minimization of my ego during painting and channeling the greater collective consciousness.
Initially, my painting process is triggered by emotions and a reaction to an event or through my daily meditations. Through meditation, my feelings are equalized and balanced until a common truth is reached – which is then portrayed through the painting. My work with oils has changed over time, evolving from spur-of-the-moment type of inspiration into a more structured, daily discipline. Highly detailed, structured elements paired with free-flowing brush strokes creates a visual language which mimics that of my growing development as an artist. Each piece possesses a narrative that can be experienced by the viewer themselves. The emotions that are harbored upon viewing one of my paintings is intended to reflect the viewer's own consciousness.
Click here for Halie's Youtube Channel!