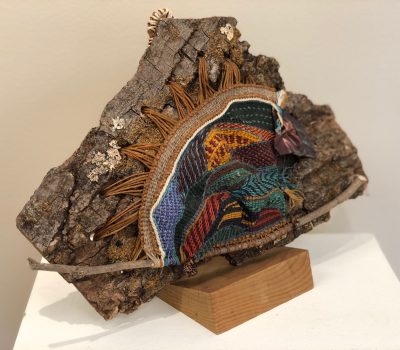 Artist Biography
I began my work in fine and traditional wicker basketry in 1997.  My materials include cedar bark, white and black ash, cane, sweetgrass, waxed linen and hand-spun yarn. My weavings have evolved from traditional concepts to offering traditional contemporary and sculptural pieces of art.
I am often inspired by nature and my sculptures can serve as colorful and decorative highlights for a wall, or a table.  Some of my sculptures are utilitarian, while others are unique works of Art.  With my 3-dimensional wall hangings I try to create "images" or scenes from nature.
I am inspired to incorporate natural outdoor treasures I have found in my weaving.  I create baskets woven around driftwood and antlers.  My sculptured work is adorned with acorns, shells, pine cones, seed pods and many natural treasures.
My work reflects the beauty I see in the world around me and the natural surroundings here on the Eastern Shore of Maryland.