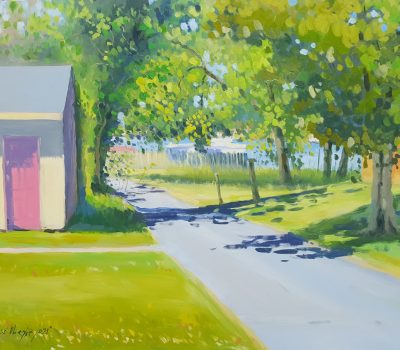 I have always a deep interest in art, which is inspirated by a love for nature. Whit my art, I like to capture the beauty in ordinary objects and places,  that most of the time goes unnoticed by others. Different mediums allow me to express my feelings, rather than illustrate ideas that constantly come to my mind. That is why I do not limit myself to a medium, style or concept. Inspiration and ideas change constantly as does light. My work is to constantly search for the best way to interpret beauty in the world in which I live. Each piece reflects who I'm now, where I have come from, and what I have learned from the past, my pieces also reflects the future of my work direction, and what I'm trying to achieve. I'm a ordinary human being, who has have a dream and love for creativity since childhood. I have found that drawing and painting is the best way to capture the beauty that life has to offer on paper or canvas. Painting  for me is a expression of human feelings. So I think that if a viewer stops for a moment, to see and understand the motive, or reason why I have painted it and somehow connect with a work of art that I have created, then I can say that I have achieved a successful piece.
Jose Ramirez is a watercolor and oil painting artist, originally from Guatemala, and currently living in Dorchester County MD.  He began his career as a professional artist in 2009, after attending the art school Manuel Herrarte Lemuz in Chiquimula Guatemala. He began exhibiting his art at the age of twenty one, and since then has enjoyed considerable success. Today, he is a plein air and studio painter using both mediums. As an artist, he has found the creative inspiration he desires, and the ability to communicate his excitement and love for nature, people and everything that su'rrounds him.  After moving to the United States in 2012, he has been developing a unique style that's smooth and realistic. His intention is not to create a photo realistic image of a scene, but to capture the feeling evoked by his subjects. After becoming a member of the Academy Art Museum based in Easton MD, attending open studios to draw portraits and human figures from life, has been an important part of his artistic training.  Jose Ramirez is also a member of the Plein Air Painters of the Chesapeake Bay located in Eston MD. Also Member of the Working Artists Forum. 
https://Workingartistsforum.com
EVENTS/EXHIBITIONS
-Oxford Fine Arts 2021
-Paint Annapolis 2021 (Public Painter)
-Plein Air Easton Quick Draw Non-   competition   Artis. Second Place.
-Artist Paint Ocean City 2021
-Worcester County Plein Air 2021
-Paint Dover (DE) 2021
-Maryland Federation of Art, MFA'S 2021   Strokes of Genius, MFA Circle Gallery,   Annapolis.
-Academy Art Museum 2021 Annual   Member's Exhibition, Easton MD.
-Plein Air Crisfield MD 2021 -2021 "Small Jewels" exhibition. Peninsula.   Gallery in Lewes DE.
-"A Little Gift of Art" Talbot Public Library,   Easton MD.
-Artists Paint OC 2020
-Kent Island Plein Air 2019
-Paint Dover Plein Air Event 2019
-Paint Berlin Plein Air Event 2019
-Paint Berlin Plein Air Event 2018
-Plein Air Easton Quick Draw 2018
AWARDS
-Worcester County Arts Council's 2021.     July, juried exhibition. First Place
-Plein Air Easton Quick Draw Non-competition   Artis 2021. Second Place
-Artists Paint OC 2021. Quick Draw     competition. Third Place
-Artists Paint OC 2020. Third Place      -2019 Artist's Choice Award. Paint Berlin Plein.   Air.
-2019 Second Place. /Artist's Choice  Kent.   Island  Plein Air.