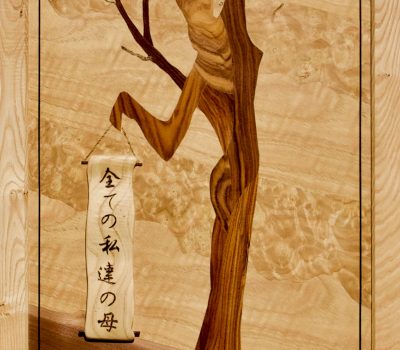 Artist Statement:
My love of wood comes from 30 years as a cabinetmaker.  During this time period, my affection for all wood species and the character of their fascia or grain prompted me to collect a prodigious inventory of exotic and domestic wood veneers.  This collection inspired a new love, my form of art, which I call wood veneer paintings. The patterns I find within the wood veneer grain drive all of my art.
My art falls into two categories:
Works in which the subject is discovered within the grain pattern of a piece of wood veneer, similar to daydreamers discovering an image in cloud formations. Oil pastels, ink, or dye might be used to enhance the focal object or image.
Works inspired by photographic or imaginary images. Carefully selected pieces (as few as possible) are used to represent the image. When appropriate, oil pastels, ink, dye and pyrography might also be used to enhance the image.
Each piece is self matted and framed with complimentary woods to complete the final composition, a unique piece of wall hung wood veneer art.
Biography
In 1978 I decided to leave the restaurant business deeming it a young man's life style. I was lucky enough to secure a position with G Robert Huyler, a very talented design/build cabinetmaker in NJ. Bob and I continued working together but maintaining separate companies for many years until his retirement to Arizona some time in the mid 80's.
Then, as a Millwork Contractor in the 80's, I was privileged to work for and with many famous architects and designers in the New York Metropolitan area supplying me with the luxury of seeing designs and installations of a large variety of styles. During this period I owned and managed a 20 man, 18,000 sq ft shop called Affiliated Craftsmen Corp. doing very large millwork production. Millwork is commercial cabinetmaking.
When I finally downsized in 1987 and retracted to a one man shop I was privileged to maintain a constant year-long backlog of work until I retired in 2008 at the age of 66. '87 through '08 was consumed entirely with furniture, libraries and built-ins of my own design for wealthy residents.
These were the years when I taught myself veneering and accumulated the stock of thousands of sq ft of veneer I maintain to this day.