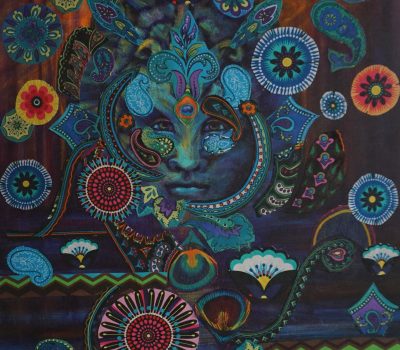 Artist Biography:
I was born in Lakewood, Ohio, blessed with parents who saw the value of the creative arts. My four sisters and I had access to music and art lessons, and I always loved drama, even though I was incredibly shy and introverted. My first brush (ha!) with art fame was winning a Mother's Day drawing contest in Catholic elementary school for my grade (third or fourth). As I recall we were given oval face forms on paper and had to fill in the features. I think I sort of cheated and copied features from a finished sample, and I did have to assure our principal, Sister Jane Therese, that it was my work. I won a dinner for my mom. I think it was God's little joke that I became a portrait artist. I also had a fifth grade art teacher who encouraged me to continue drawing and helped me, and a mom who was fine with my older sister and I painting our teen bedroom in eggplant, deep orange and school bus yellow paint, plastering the walls with Peter Max posters. I crafted, sewed and painted all my life, took up stained glass crafting, and an aunt suggested I try colored pencil when I was a new mom at home and really wanted to improve my art skills. I took a colored pencil class taught by a local artist and was told I should go to art school at our local college, Luzerne County Community College in Nanticoke, PA.
The turning point to taking an art career seriously happened at that time. Our family was just scraping by, and I couldn't see how it was possible. I prayed for direction, filled out Pell Grant forms and attended the college commercial art program. At the time the college, small as it was, had a traditional art training program that I took full advantage of. I remember the first college show I participated in-I wore a $15 K-Mart discount rack dress and decided I would make a frame for my piece out of another one I had because I couldn't afford to buy new, but I thought I was really on my way. One very gifted and accomplished student from the program started an atelier program in our town after graduation, which was unheard of, and I continued my training. That prayer was heard and answered in more ways than I could have dreamed of, and it has been so exciting to grow creatively. My current style is a blend of everything I've done over the years. I love realism and design, and meld the two using acrylic, fabric collage and a toned background. My journey was really one foot in front of the other, often not sure of what I was doing or where it would end, but the Lord has been faithful. I would encourage anyone with a dream to follow it. The road appears as you do, and mine isn't done yet!
Artist Statement:
I've now spent a lifetime in and around the arts. It is a path every artist is invited to take, and we can refuse the road less taken or follow the impulse to constantly observe, interpret and create. I have found the call impossible to resist even when it feels like I'm speaking into a dark and empty room. I'm blessed to live in a place I feel so at home and so spiritually connected, am constantly inspired by and desire to interpret in new ways, using everything I've learned and done to this point creatively. My focus is mixed media. I'm just an old hippie and I've never lost the love of bright colors and textures. My 2D work is primarily acrylic and colored pencil and I constantly experiment with ways to add fabric collage elements to that work.