Sumi-e, East Asian Brush Painting with Joan Lok
April 26 @ 9:30 am

-

April 28 @ 3:30 pm

280$
Event Navigation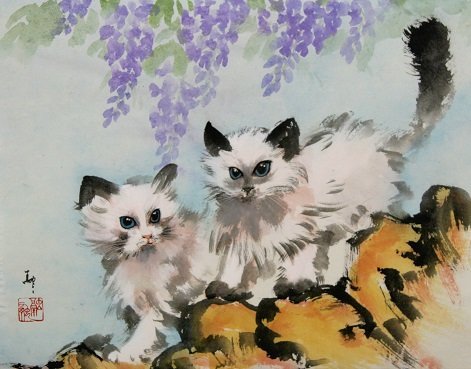 $225/members, $280/non-members
Please register by 04/25/2018!
Learn to capture the spirits of mischievous cats in quick, simple strokes. Discover the art of Sumi-e, East Asian brush painting, in which every stroke becomes the petal of a flower. Expand your creativity and enhance your artwork to use gestural brushwork to capture the spirits of animals and the beauty of flowers. Author of Barron's best-selling "Chinese Brush Painting: Flowers", Joan Lok will cover a variety of subjects, including cats, squirrels, grapes, pumpkin, bird of paradise, cockscomb, daisy, cherry blossoms and apple. This workshop will be packed with demonstration, discussion, and individual help. Read more about Joan and see samples of her artwork at www.joanlok.com
Day 1 – Flowers and Fruits – Introduction/refresher to the fundamentals on the first day. We will paint a unique flower, the bird of paradise, and practice how to load the brush with multiple colors to create beautiful petals. Then, we will paint grapes and their leaves by using both center strokes and side strokes.
Day 2 – Cute animals – We will start with a small squirrel eating a big pumpkin. Then, we will work on painting cute cats and kittens in different posts and fun color patterns. You may bring photos to paint your favorite cats, or use the samples that Joan provides.
Day 3 – Garden Flowers and Plants – We will work on popular garden flowers and plants including cherry blossom, cockscomb, daisy and apple to accompany the cats and kittens in our artwork.
To register: click here