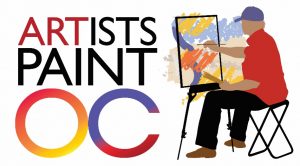 PLEIN AIR EVENT ~ AUGUST 11 – 15, 2021
EVENT SCHEDULE
Wednesday – Saturday, August 11 – 14
Artists Paint Local Scenes
Watch 40+ artists paint outdoors in Ocean City and Assateague areas.
Saturday, August 14, 5-8pm
Free admission! Wet Paint Sale & Awards Ceremony
Ocean City Center for the Arts, 94th St.
Join us for your first opportunity to view and collect the freshly painted scenes of OCMD. Meet the plein air artists and take home an original painting. Enjoy hors d'oeuvres and live music.
1st Place – $2,500
2nd Place – $1,000
3rd Place – $500
2 Honorable Mentions – $50 each
Best Use of Light – $100
Best Maritime – $100
Best Hospitality – $100
Best Nocturnal – $100
Awards made possible by the Art League of Ocean City, Peter Glenville Foundation, Maryland State Arts Council, Worcester County Arts Council, Worcester County Tourism, and private donations.
Sunday, August 15
Quick Paint on the Boardwalk, 9-11am
Off-the-Easel Art Sale, Arts Center, 1-3pm
Watch the artists paint against the clock on the Boardwalk (S. Division St). Then head to 94th St. for judging and sale. Prizes sponsored by Ocean City Development Corp. $500 in total prizes.
August 15th – September 25th
Plein Air Juried Show – Artwork selected will be featured in the Galleria of the OC Center for the Arts. Exhibit juror: Alison Leigh Menke. Artwork will be photographed and also presented as an online exhibition at www.artleagueofoceancity.org, as well as shared on social media.
August 21-22nd
ArtX Festival – View and collect artwork created during the Artists Paint OC Plein Air event. Located at Northside Park on 125th St., ArtX will showcase fine art vendors around the lagoon, art activities, live music, and more. Saturday 12-8pm, Sunday 9-3pm.
ArtX Quick Paint Contest: Artists paint against the clock at Northside Park, followed by judging and off-the-easel sale. Details to follow!
ARTIST REGISTRATION
The 2021 Artists Paint OC Plein Air event is currently full. To be added to the wait list, please call 410-524-9433 or click here.
To register for the 2-Hour Quick Paint on the Boardwalk, Aug 15: click here.
CONTACT US
For more information about ARTISTS PAINT OC, please contact the Art League of Ocean City at 410-524.9433 or email Gallery Director Katie Brown at katie@artleagueofoceancity.org.