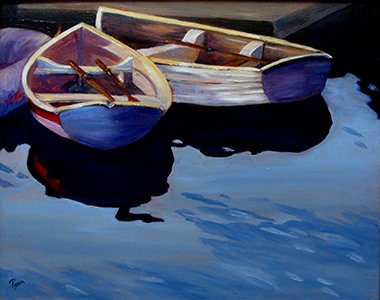 CONSTANCE WOLF HUGHES (known as "Tinsel" to her friends and family) was born in Washington, D.C. and grew up in Chevy Chase, MD. Tinsel has taken watercolor workshops with well-known artists such as Carolyn Gawarecki, Ted Nuttal and Mary Whyte. In addition to watercolor classes, Tinsel has taken figure sculpture classes from Charles Johnson and Paul Lucchesi at the Alexandria Torpedo Factory. Sculpture remains a big part of her art life. After completing a month long workshop with John C. Traynor in Keane, New Hampshire, oil painting became as important as her watercolors. Tinsel is a member of the Art League of Ocean City, Oil Painters of America and the Baltimore Watercolor Society. She was also one of the original founding partners of Gallery One located in Ocean View, DE.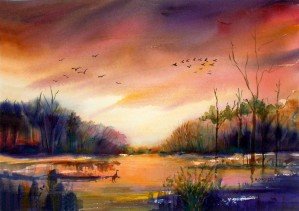 GERILYN GASKILL has a passion for capturing the beauty of the Delaware coastline and Delmarva landscapes in watercolor, oil and acrylics. Gerilyn believes art runs in her blood. Even though she got a late start in the career of professional fine arts, she now completes a painting a day or pretty close. When she's not painting, she is teaching others to paint. Gaskill volunteers a great deal of her time educating youth in the arts. Gerilyn Gaskill was born and resided in Wilmington, De. spent some of her youth in Lewes, De., and now splits the difference residing closer to the middle of the state in Georgetown, De.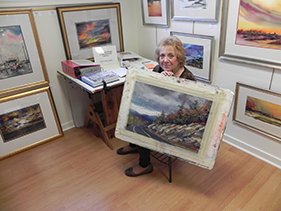 GAIL ZINAR was born and raised in Greenbelt, MD. At age 17, Gail entered the Corcoran School of Art. While studying at the Corcoran, Northern Virginia Community College, and the Department of Agriculture Graduate School, she worked as a cartoonist trainee for a subsidiary of Prentice Hall Publishers, did a two year art internship with the Federal Aviation Administration, and became a senior illustrator with the Defense Communications Agency. She also freelanced. The next ten years were spent creating visual presentations, publications, and display work for the Defense Department. After working thirteen years as an illustrator, Gail resigned in 1978 from the government to pursue her dream of becoming a mother and fine artist. She began illustrating "real life" stories of children and family experiences upon request. This led to the creation of her business, The Artland Express, focusing on stationary, hand-painted prints, and paintings. Gail has taught as an adjunct instructor for the Catonsville Community College and given demos and workshops to colleges, organizations, and clubs. Having lived most of her life in the Baltimore Washington Area, she recently moved to Lewes, DE. Gail lives life through her art. She feels that every expression of life, personality, and spiritual self is portrayed through her use of color, line, shape, and form in every piece she creates. Since 1992, Gail has taken courses in watercolor under the direction of Morris Green, Fritz Briggs, and Joan Bevelaqua. She has combined pen and ink drawings with watercolor washes, and uses various multimedia to accomplish the "unknown aura of life" in her art. Organizations with which Gail has been affiliated are the Woman's Caucus on the Arts, Columbia Art Alliance, Patuxent Art League, Howard County Art Guild, Maryland Federation of Art, Oella Mill Art Center Gallery, the Laurel Art Guild, the Rehoboth Art League, the Bethany Beach Watercolor Society, the Milton Art League, the Millsboro Art League, and the Mispillion Art League. She is a signature member of the Baltimore Watercolor Society, the Washington Watercolor Association, the Delaware Watercolor Society and the Maryland Pastel Society. She served as Vice President and then President of the Laurel Art Guild, and served as President of the Washington Watercolor Association. Her award-winning paintings have been exhibited in both private and public galleries throughout the Washington-Baltimore metropolitan area, the Eastern Shore, and nationally. In 2009 she received the American Pastel Society Award of Excellence from the Maryland Pastel Society.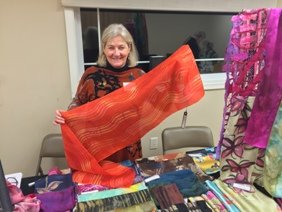 MITZI ASH is a visual artist recognized for her large-scale, organic paintings that suggest the natural world. Using luxurious white silk and color-rich dyes, Mitzi invites us to marvel at the beauty of flowers, leaves, and trees through her use of shape, form, and color, capturing at once their simplicity and complexity. A resident of Ocean Pines, MD, Mitzi is a member of the Worcester County Arts Council, the Art League of Ocean City, the Rehoboth Art League and Silk Painters International. She has been painting on silk since 2001. She was a featured artist at the "Emerging Women" art show in Shepherdstown, West Virginia in 2005. Mitzi received the 2012 VIA (Very Important Artist) Award at the Rehoboth Art League Fine Art Exhibition. In 2013, The Art League of Ocean City judged "Together Again" as Best in Show. In 2015 the Worcester County Arts Council awarded Mitzi 2nd place ribbons for "Tree Rings" and "Blessings," respectively. Mitzi received 1st place for wearable art from the Rehoboth Art League in 2016. In 2017, Mitzi assembled an international exhibition of silk painting at the Ocean City Center for the Arts.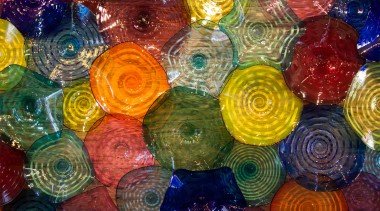 JEFF AUXER: "I believe everyone desires a unique surrounding that speaks to their true self. Functionality manifests itself in the vibrant colors and shapes I am able to create in my studio. My work incorporates Venetian glass techniques and handmade tools resulting in unique, one of a kind works of art that are not only beautiful but also applicable to everyday life."
EVAN FITZGERALD: "My current work is an exaggerated view of the ego.  What we wear can define us to the outside world. Clothing, and specifically accessories can communicate who we are or who we would like to be. We are all guilty of this, myself included."
PETER GIBSON grew up in Michigan, and moved with his wife Kathy, to Maryland in 1973 for a job with the National Ocean Service.  That winter, he took an Adult Education Class on Stained Glass.  He was hooked on glass, and began a long period of taking workshops, learning, trying new things, and making projects for family and friends.  In 2008, he retired from the Federal Government, and as a retirement gift to himself, purchased a kiln to start working with fused glass.  Since that time, he has spent as much time as possible with new workshops, learning, trying new things, and making projects.  In 2017, he began teaching Fused Glass classes at the Art League of Ocean City.  He continues to work in both stained glass and fused glass, enjoying every minute.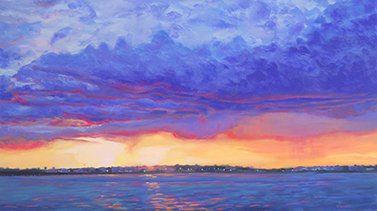 DAVID SIMPSON: Born and raised in Ocean City, David has had a great opportunity to connect to the shore and everything it had to offer. In 1999, he reconnected with the art world at Salisbury University, where he achieved both a philosophy degree and a fine arts degree in painting. The subjects of his oil paintings traditionally are focused on the human figure, landscapes, and seascapes. Most recently, his paintings have focused on the elements of texture, color, and light via seascapes. In the spring of 2012, he graduated with Masters in the Art of Teaching from University of Maryland Eastern Shore. He is showing work locally at community art organizations, winning awards, and teaching. In addition, he recently became a board member for the Worcester County Arts Council and holds the office of Treasurer. As an art instructor, he is happy to contribute professionally to the promising local art community.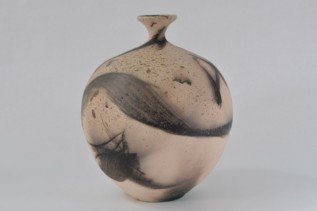 ROBERT JOHNSON and Sarah Halcott created Amused Studios as their home based art studio in 2005. They mainly use clay as their medium and create a colorful eclectic mix of functional and decorative pottery. Robert has focused on throwing classical shapes sometimes altering them and finishing them with a saggar or horsehair firing to create works of art. He particularly enjoys making bottles with tiny tops that take a steady hand and patience to form.  He often adds a layer of mica slip he created which adds a subtle sparkle to the pots.  He chooses which pots to finish with horsehair which leaves black squiggly lines on top of the white clay and golden flecks, or saggar which creates a smokey and mottled red over the sparkle.  He has been inspired by South-Western Native Americans who use a micaceous clay body, all they make glitters with this golden substance.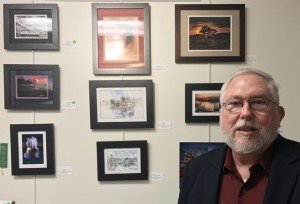 JOSEPH SCUKANEC is a local photographer residing in the town of Snow Hill on Maryland's Eastern Shore. He developed a passion for photography during his twenty-year career in the US Navy as a way to record and share his experiences, as he traveled throughout the United States and the world. He most enjoys photographing local events, still life, landscape, nature and close-ups. "Whether it is a macro or landscape photograph, or a composite of photo art, I want to lead the viewer beyond the photograph into a visual journey through an artistic impression of my imagination."