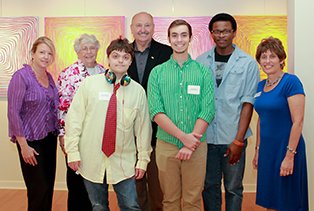 The Art League of Ocean City scholarship fund has been in existence since 1991. This scholarships benefit Worcester County residents wishing to pursue a degree in visual arts.
2014 scholarship winnersSince 1991, the Art League of Ocean City has provided four scholarships each year to High School seniors wishing to pursue a career in the arts. The scholarship offering is available to all Worcester County residents attending any public or private High School as well as home school students.
In 2014, five students were awarded $1,000 scholarships. Funding for the scholarships are provided through the ALOC and the Katherine Ellen Brown fund at the Community Foundation of the Eastern Shore.
The deadline for submission is April 8. Applications are available online, at the art center or through the High School guidance offices.
The Ocean City Center for the Arts office hours are Monday thru Friday 9 a.m. to 4 p.m. and the gallery is open daily 11 a.m. to 4 p.m.
If you would like to apply for an ALOC Scholarship, click on the link: ALOC Scholarship Application.