Membership in the Art League of Ocean City is open to all supporters of the arts. Whether you are a student or professional artist, an art collector or art lover, you will enjoy the benefits of membership. As an Art League member you receive discounts on purchases, classes and activities, use of the ALOC library resources, email updates, and the opportunity for a member artist website link. Memberships can be purchased for one or two years.

To Become a Member or Renew: click here!
Or click here to view and download a printable Membership Form.
Free Print by Kirk McBride
Become a new or renewing member of the Art League and take home a signed and numbered limited edition print by artist Kirk McBride "Shorebreak" – a $100 value!
Benefits of Membership
10% Discounts on all Purchases
20% Discounts on Art Classes
Members-Only Art Exhibits & Classes
Invitations to Openings & Events
Quarterly Art Matters Newsletter
Online Artists' Directory & Gallery
Sell Your Artwork in our Gift Shop
Ongoing Events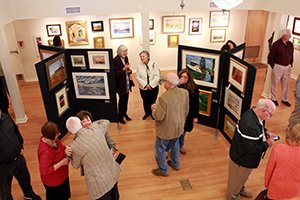 Youth Art Shows
First Friday Receptions—5-7 pm
Juried and Guest Artist Exhibits
Artists Paint OC: Plein Air Event
Sand Castle Home Tour
Empty Bowl Project
Workshops & Classes for Children & Adults
Available Memberships:
Memberships include 20% off tuition fees.
$25 Student (25 and <)
$40 Senior (60+)
$50 Individual

$60 Family (up to 6 family members)

Arts Patron Memberships include: 20% off tuition fees and unlimited number of members
$100 Arts Patron – Bronze
$250 Arts Patron- Silver
$500 Arts Patron – Gold
$1,000 Arts Patron – Platinum