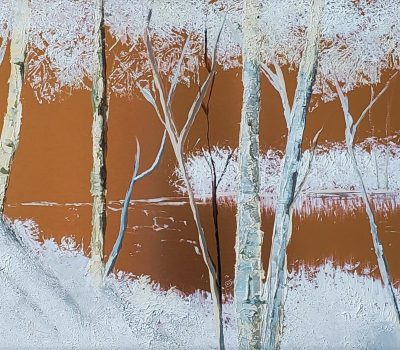 Artist Biography:
Anabela was born and raised in Santiago, Chile where her grandfather and grandmother were nationally renowned artists. Her grandfather studied abroad on an art scholarship in Europe and her grandmother was active in the Berlin, Germany art culture, honing her skills after arriving in Chile. From the age 6 to 8, Anabela studied guitar for the first time in her hometown of Santiago, Chile. After developing her skill, she studied music theory and classical guitar for 5 years at Escuela Moderna De Musica Conservatorio, one of the most well-known conservatories in Santiago. Anabela is a third-generation impressionist artist, having grown up surrounded by art. She had a unique opportunity to enjoy painting all her life, being able to take part in her grandparents' exhibitions.
Anabela's creativity gave rise, originally, to abstract acrylics that she painted as a hobby. Her curiosity with other styles and mediums, as well as a love for the masters of impressionism, prompted Anabela to experiment with varying approaches and subjects in her art. Her versatility is displayed in the variety of her work. Whether it is flowers in watercolor or glass, still life in acrylic, or People Portraits or landscapes in oil, Anabela changes mood, style, and medium to fit the situation.
Anabela is an affordable art restorer of art. Whether your artwork has weathered over the years or has been damaged accidentally or has darken by smoke, soot, grease, linseed oil, dust or started to crack throughout, Anabela has the expertise and experience to bring life back to your most treasured pieces. Her skill in cleaning and restoring weathered oil paintings, acrylics, art on paper, watercolors has become a valued commodity as well as her ability to create compositions in murals and collector's portraits. Art buyers have come to appreciate here skill and affordability in framing.
Contact Anabela today for portrait commission work and art restoration services.