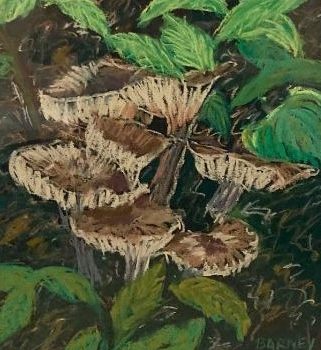 Artist Biography:
Anne Barney is a pastel and woodcut artist and poet living in Rehoboth Beach. She began her art lessons in 2016 with Robert Howard in Great Cacapon, WV before moving to Rehoboth Beach in 2017. Since then, she has studied with Nick Serratore in Milton and Jill Glassman in Berlin, MD. She exhibited in annual Members' Exhibitions at the Academy Art Museum in Easton, MD and in Members' Fine Art Exhibitions at the Rehoboth Art League (RAL). David Brinley, judge for the 2022 RAL exhibit, awarded her painting "Approaching Storm" the Faucett Okie Award for an emerging Delaware artist working in oil or pastel.
Anne's work is in private collections in Sussex County and the Baltimore-Washington area. A collection of her paintings "Scene on the Trail" hung in the RAL Members' Gallery on the second floor of the Rehoboth Beach City Hall for the month of October 2023. Also in October, some of her white-line woodcuts were in the Delaware White-Line Woodcut Guild's exhibit "Making the Cut" at the Lewes Public Library.
Anne is a member of the Rehoboth Art League, the Mispillion Art League, the Art League of Ocean City, the Academy Art Museum of Easton, MD, the Maryland Pastel Society, the Delaware White-Line Woodcut Guild, and the Rehoboth Beach Writers' Guild.
Artist Statement:
My paintings are primarily of landscapes I photograph while hiking in National, regional, and state parks. I particularly like landscapes that can only be seen on foot.