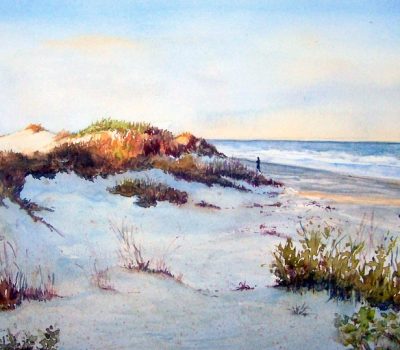 While it is one of the most difficult mediums, I have always loved the transparency and glow of Watercolor. I love capturing the beauty of seascapes and landscapes, capturing the atmosphere through light and shadows, and particularly the movement in the sky. The play between light and shadow on the beach are intriguing to put on paper. Watercolor allows me the freedom to be as realistic as possible, or, be more abstract and let the viewer decide.
Bonnie C. Sybert Baltimore, MD [410]245-9124
Education:
Towson University
Studied watercolor with: Fritz Briggs, AWS. Bill Wright, AWS. Melody Bernhardt, BWS. Elizabeth Moore, BWS James Drake Iams, AWS.
Workshops:
Charles Reid, AWS., Hilton Head, SC. "Traveling Brushes", Cambridge, Md. Mark Hiles, Watercolor Landscape John Sills, Landscapes, Oil
Selected Awards:
Artist member of the Baltimore Watercolor Society
Maryland State Fair: 1st prize (1999, 2000) amateur division 2nd prize (2001, 2002) professional division
Annual North American Miniature Art Exhibition – Honorable Mention (2001, 2005, 2017) First Place- Oil (2009), Third Place- Watercolor (2009) Honorable mention 2013 and 2016 watercolor
Baltimore Watercolor Society, Redeemer Show – Honorable Mention (2006) Baltimore Watercolor Society, Boston Properties Show – Honorable Mention (2007) Baltimore Watercolor Society, BHC Hoffberger Gallery Show – 2nd place (2009) Baltimore Watercolor Society, 2 Honorable mentions Liriodendron Mansion (2014)
Selected Exhibitions / Shows / Collections
Galleries where work is exhibited: Art Gallery of Fell's Point, Baltimore, MD (
http://www.fellspointgallery.org/
) since 1999 Stebbins Anderson, Baltimore, MD. Charred Rib Restaurant, Baltimore, MD The Picture Show Art Gallery, Havre de Grace, MD Seaquells, Bethany Beach. Delaware Carolina Street, Fenwick Is, Delaware Exhibited with the Baltimore Watercolor Society since 2000 Art League of Ocean City Maryland since 2014
Past Exhibitions: Hoffberger Gallery, BHC (2008) (2017) Zoll Studio Exhibit (2008, 2009, 2010, 2012) The Gibson Island Club (2004, 2005, 2007, 2008, 2010) Beaux Art Fair (2006, 2007) Brightwood Center (2003, 2005, 2007) Emmanuel Episcopal Fall Show (2004, 2005) Ascension Lutheran Church (2004) Resurgam Gallery (2003) Muse Studio & Gallery (1991-2002) Towson Town Festival (1999) St. John's Episcopal Art Show (2011, 2012, 2013, 2014, 2015, 2016, 2017) Elkridge Country Club (2010) Art League of Ocean City BWS Exhibit (2014) Hampton Arts Initiative (2012, 2014) Broadmead Center (2014, 2015, 2016, 2017, 2018, 2019) Aubrey Artworks Collective -Anthem House, September (2019) -The Pendry, Baltimore (2019) The Fitzgerald, December, 2019 Woodberry Kitchen, January, 2020 Union Wharf, March, 2020 Fairhaven , 2022 Roland Park Presb. Church, 2022