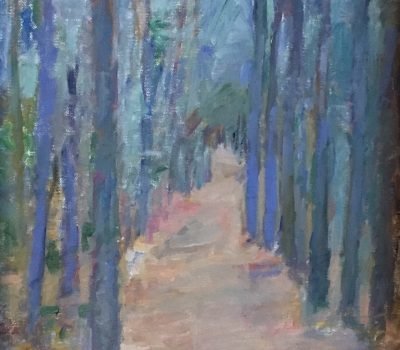 Artist Biography:
Carolyn K. Aberbach is a graduate of Rosemont College near Philadelphia with a Bachelor of Arts Degree in Studio Art.  Additionally, she studied in the Interior Design program at Kean College of New Jersey.  Over the years she has attended classes at the Torpedo Factory Art Center in Alexandria, Virginia and the Art League of Ocean City, in Ocean City, Maryland.  Recently she has begun plein air painting where she is interested in capturing the ever-changing color and light on a subject.  She took part in the Ocean City Art League Plein Air Event in August 2017 and in August of 2018 she received an Honorable Mention in their juried show.
Carolyn works primarily in oil on canvas or board.  She works in a loose, impressionistic style blending harmonious color combinations with simplicity of design.  Allowing the eye to move around the canvas through line, shape and color is part of her style rather than portraying an exact representation of an object or landscape.
While home is the Delaware shore where her work is inspired by the color changes in the setting sun on the bays and ocean in recent years she and her husband are living part of the year in Charleston, SC.  This has brought new inspiration.  It is easy to be captivated by the light and color of Charleston and the surrounding low country.  Their warmth and beauty are mesmerizing.
With this new inspiration she is currently focusing exclusively in oil color on oil primed linen canvas.  As an exhibiting member of the Charleston Artist Guild Gallery in Charleston, her work is currently hanging in their gallery at 160 E. Bay Street.  Their website is charlestonartistguild.com.  Some of her pieces can be seen also on the following blog: carolynaberbachfineartstudio.wordpress.com