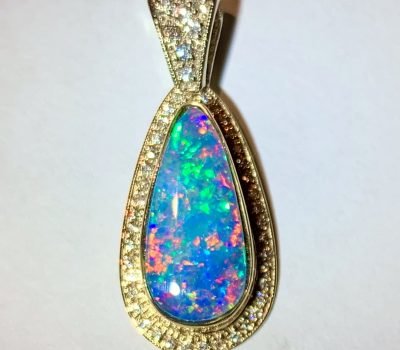 Artist Biography:
Dan Kozma, native of Ellicott City, Maryland relocated to the Ocean City area when he opened his first jewelry store in 1978. 40+ years later, he still creates and sells fine jewelry from his shop in West Ocean City. Dan is a self taught jeweler who prefers to work in gold and silver with diamond and unusual colored gemstones. His all time favorite material to work with is opal. Much of his work today incorporates precious gemstones and diamonds in white gold, yellow gold or sterling silver.
Re-purposing a customer's love worn piece or making a customer's original idea into a brand new design  is what keeps Dan busy at the jeweler's bench.
As a kid, he always liked hunting and collecting rocks. When he was a young teen, his father showed him how to work with metal; from cutting, shaping to soldering. Once he got proficient in base metals, he jumped right into working with sterling silver and then gold. It was only natural to move to stone setting from this stage. Hunting for gemstones at gem shows replaced rock collecting in the wilds. To this day, Dan still appreciates all of nature's beauty and tries to capture some of it in the jewelry he creates for his customers.