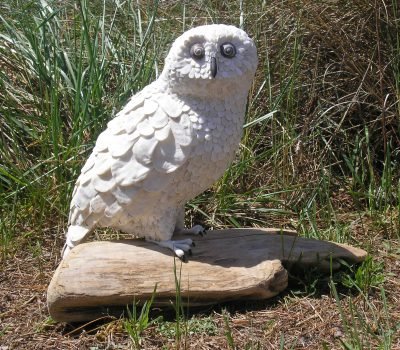 Originally from Michigan, Dave has lived in Maryland since the mid 1970's, moving to Maryland's Eastern Shore in 2008.  He has an engineering background and is a self taught artist.
Having always appreciated the arts, dabbling with sketches and drawings most of his life, along with a true love of nature, the thought of creating some form of art was alluring. But, it had to be something different, something unique.  He wanted it to be his idea and his idea alone.
While walking on a beach one winter day, he came across an oyster shell that reminded him of a bird's webbed foot.  This started him collecting oyster shells from the Chesapeake Bay and other coastal areas.
Using several different common materials, he creates the body of each sculpture, molding and forming each one to fit his eye and the required posture for that specific piece. He then dresses this body with oyster shells.  The first sculpture he created was of a pelican.
As things evolved, other subjects came to life, all while taking common materials and using them to create a sculpture in real art form with each one being unique and one of a kind.
Dave's work can be obtained thru direct commissioning.  He enjoys the challenge of the opportunity to create a sculpture for a specific space.  His work can also be found in select galleries in Maryland, Virginia, and Florida
Dave's work has been published in Metropolitan and Coastal Style Magazines, and his work has sold nation wide.