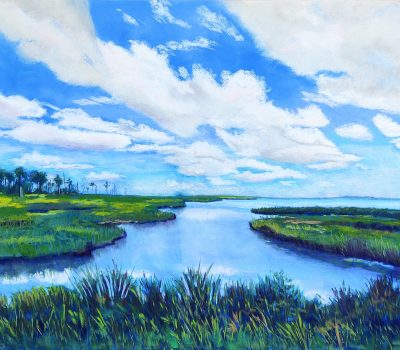 Pastel painting allows me to express in two dimensions a love of line and form through the color, light, mood and compositions existing in the beautiful natural world that surrounds me. I am drawn instinctively to the dramatic changes between light and dark values as they are revealed in the scenes and still life compositions I paint to tell the story I want to convey. My work is representational. My color palette is chosen both to reflect reality and to express some Impressionistic elements. Typically, I choose either a dry or wet underpainting using hard pastels with Gamsol or alcohol or a mid-toned surface to begin my work. My preference is to use Ampersand Pastelbord, UArt board or Lux Archival pater because they allow for hard pastel underpaintings and many layers of pastel. Then I use a variety of soft pastels in multiple applications, from medium-soft to very soft, to complete the painting. I hope the viewer experiences what I see and feel as if he/she is there in the moment I capture. Infusing light and life into my work motivates and inspires me.
Artist Biography
Art has been in my DNA since I was a small child. I was born in the Greenwich Village area of New York City, have lived in three states, and now reside on the Eastern Shore of Maryland. Each location has fueled my fascination with and desire to capture the beautiful colors, shapes, shadows, and reflections in nature. Throughout my youth I explored my natural talent for drawing. In my long teaching career, I used this artistic ability to enhance learning for my students. Upon retiring from the workforce, I reconnected with my artistic side, taking art courses, and participating in workshops offered by national and regional award-winning artists. Each has helped me to develop my skills and add depth to my work.
Pastel is my medium. Concentrating on still life and landscape paintings, my landscape work captures scenes throughout the Eastern Shore of Maryland as well as scenes from my travels, particularly in Oregon. Recurring themes are water and sunsets.
In 2022, two of my paintings have received Honorable Mention Awards of Excellence in the same exhibition at the River Arts Gallery in Chestertown, MD. Recent juried exhibitions include the National Biennial Shades of Pastel Exhibition (2022); the38th Annual Oxford Fine Arts Fair (2022); the Pastel Society of Colorado's National Online Exhibition (2021); the Adirondack Pastel Society's 7th Annual National Pastel Exhibition (2021); the International Online Exhibition "Spirit of Pastel" hosted by the Pastel Artists of Oregon (2020) in partnership with Art and Soul Gallery. Several times I have been juried into the Local Color Art Show and Sale (most recently in 2021) held during and part of the annual Plein Air Easton Competition and Festival, the largest and most respected plein air competition in the country. I regularly exhibit at the Academy Art Museum in Easton MD where one of my paintings won the 42nd annual Samuel Sands Award; the Art League of Ocean City; Chestertown River Arts Gallery; the St. Michaels Art League and the annual Labor Day Weekend "Under the Tent" art show and sale.
I am a past President and a member of the St. Michael's Art League; a member of the Maryland Pastel Society; the Academy Art Museum; Chestertown RiverArts, Art League of Ocean City, and the Plein Air Painters of the Chesapeake Bay. Currently, my paintings can be seen at the Lu-Ev Frame Shop and Gallery in Easton MD, and at Tish Fine Arts Plus Gallery in Chestertown MD. My paintings are in private collections locally, regionally and throughout the country.