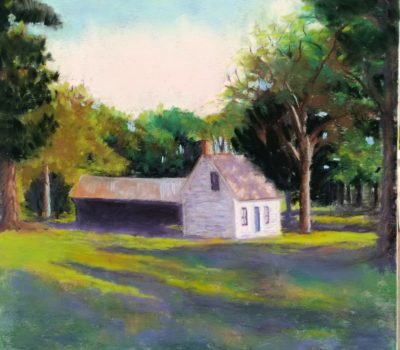 Artist Biography:
Pastel painting allows me to express in two dimensions a love of line and form through the compositions, color, light and mood that I see and feel in the beautiful natural world that surrounds me. I am drawn instinctively to the dramatic changes between light and dark values as they are revealed in the scenes and still life compositions I paint to tell the story I want to convey. Though my work is representational, my color palette is chosen both to reflect reality and to express some Impressionistic elements. I hope the viewer experiences what I see and feel as if he/she is there. Infusing light and life into my work motivates and inspires me.
Concentrating on still life and landscape paintings, I focus predominantly on scenes throughout the Eastern Shore of Maryland as well as scenes from my travels around the country, particularly Oregon.
My work has been juried into shows by regional and nationally recognized award-winning artists, notably Louis Escobedo, Stan Sperlak, Tim Bell, Trey Finney, Aimee Ericksson, David Lawton, Doug Dawson, Marcy Ramsey and Raven Bishop.  Several times I have exhibited as one of 42 DelMarVA Peninsula artists at the Local Color Art Show and Sale, a part of the annual Plein Air Easton Competition and Festival which is the largest and most respected plein air competition in the country.  I have also exhibited at several regional venues– Chesapeake College; the Academy Art Museum where one of my paintings won the 42nd annual Samuel Sands Award; Art League of Ocean City, the AM Gravely Gallery; Chestertown River Arts Gallery; the St. Michaels Art League Annual Members Show, and the annual Labor Day Weekend "Under the Tent" art show and sale.  I am a past President and member of the St. Michael's Art League, and hold memberships in the Academy Art Museum, Chestertown RiverArts, Art League of Ocean City, Plein Air Painters of the Chesapeake Bay and the Maryland Pastel Society. My paintings are in private collections locally as well as in New Jersey, New York, Pennsylvania, Indiana, South Carolina and Oregon. I reside on the Eastern Shore of Maryland.