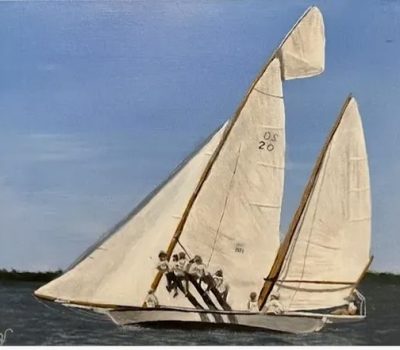 Artist Biography
I'm a self-taught "pandemic painter." During a bout with INSOMNIA late one night in DEC 2020 at the height of the Covid outbreak, I discovered the Bob Ross Channel streaming on internet TV. After binge-watching several episodes of this iconic artist, I grabbed a couple of old brushes, some acrylic paints and a set of stretched canvases from my daughter's craft closet and… I started to paint. Of course, my first painting included mountains with "happy, little trees." After a few Ross-style pieces, however, I became interested in learning about other methods of painting.
With YouTube videos and books by Carlson, Payne, etc. serving as my "formal art instruction," I absorbed all I could about art history, drawing, visual perspective, values, color theory, etc. I also joined the Mispillion Art League in Spring 2021 and entered my first juried show. Much to my surprise, I received an Honorable Mention for "Last Fetch!"
This is what exhibit jurors recently said about my work: "Ed's coastal landscapes are vibrant statements that evoke a mood and expansive sense of place and time. The execution of light is accomplished and the color palettes are warm and inviting. The focal point of each painting is clear. The careful use of shadow compels you to examine these pieces for exciting details."
Inspired by the magnificent vistas of the Delmarva Peninsula, my art journey continues with additional landscape paintings exploration, including participation in local and regional plein air events. I am also the founder and co-organizer of the annual Paint Laurel Plein Air in Laurel, DE. My work is represented by Nanticoke River Arts Council's Gallery 107 in Seaford, DE and you will soon find my paintings at the Lemonade Gallery in Washington, NC.
Artist Statement
I am drawn to the sea. Since my early childhood, time on the water has been a constant in my life. From owning my first boat at age twelve to getting a Bachelor of Science degree in Marine Biology to early morning waterfowl hunts on the Delaware Bayshore, the rise and fall of the tides has influenced my sense of place and filled me with wonder. The ocean, bays, beaches and marshes of the Delmarva Peninsula are recurring themes in my artwork with water scenes often displaying many moods. My goal with each is to capture the beauty of those environments and direct viewer attention to a scene that might often not be noticed by a casual passerby.