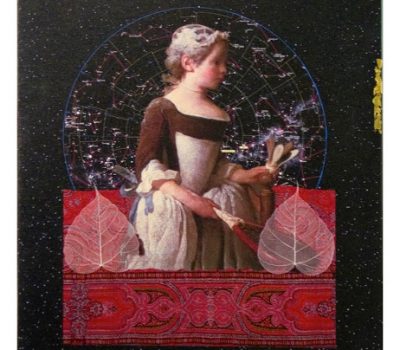 Artist Statement:
The mixed media collage by Felicia Belair-Rigdon has evolved through a concentration on collage incorporating artist-made paper.  The artist was born and raised in Alexandria,Virginia and maintained a studio at the Torpedo Factory Art Center for 22 years.  Her works explore themes of neo-classicism in a contemporary context.   These works are shaped by a deep sense of time. . . of ideas past that are relevant to today employing classical excerpts seen through a contemporary prism. 
The artist is a winner of the Open Studio Press, Exhibition- in- Print 1999, Mid-Atlantic division of  the New American Paintings  judged by Linda Norden, curator of Contemporary Art at Harvard University's Fogg Museum.  In addition, Ann Cohen DiPietro of the Heschler Museum awarded  a solo exhibition at the Graphic Eye Gallery in Port Washington, NY.  The artists' works were exhibited at The Corcoran Gallery of Art, Washington DC;  The Virginia Museum of Fine Art, Richmond, Virginia; the Baltimore Museum and the Chrysler Museum, Newport News, Virginia.
"A compelling combination of past and present, juror and New York critic Donald Kuspit remarks, 'this is to me a central, contemporary and topical motif. . .which calls attention to vulnerability and mortality".  Ms. Belair-Rigdon was honored with Best In Show, Art Howard County 1993: The Howard County Arts Council by juror Steven Lanier formerly of the Delaware Center For Contemporarty Art. He states, "CreatorLifestories. . .subconsciously the allegorical mixed media collage challenges our sense of well being".
CV:
Selected Venues from Solo and Juried Exhibitions:
Fast Forward: Corcoran Gallery of Art, The Hemicycle Exhibition
Virginia Museum of Fine Art: Virginia Artist's Biennial
One Person Show: The Virginia Museum of Fine Art
The Baltimore Museum of Fine Art: Maryland Artist's Biennial
The Chrysler Museum: The 32nd Irene Leach Memorial Exhibit, Norfolk, Virginia
Art in Embassies Program: Gambia, Africa
Peninsula Museum of Fine Art: Beaux & Eros
Cleary Minor Gallery: All on Paper, Buffalo, New York
East West Cultural Studies: National Small Works, New York, New York
The Graphic Eye Gallery: Solo Show, Long Island, New York
Visions Art Gallery: Icon Influences, Albany New York
The Collector Art Gallery: Artists & Angels, Hot Springs, Arkansas
The Rehoboth Art League: Fourth Annual Juried Exhibition
The Target Gallery: Paper, Stone, Scissors, Parts One and Three, Alexandria, Virginia
Loyola Collage: Three Women, Baltimore, Maryland
New Jersey Visual Arts Center: International, Summit, New Jersey
Salisbury State University: Primarily Paper, Salisbury, Maryland
The Target Gallery: Not To Scale, Torpedo Factoery Art Center, Alexandria, Virginia
Awards
1999 New American Painting, Open Studio Press, Exhibition-in-Print No 21.
1993 Best In Show, Art Howard County, MD
1967 Award of Distinction, Virginia Artist's Biennial, Virginia Museum of Fine Art
1965 Award of Distinction, Virginia Artist's Biennial, Virginia Museum of Fine Art
1993 Atheneam Regional Annual: Juror's Award, Julia Boyd
1992 Open Exhibition Virginia, Jurors' Award, Virginia Mecklenberg
Select Collections
Warren Buffet, Omaha, Nebraska
The Children's Inn, National Institutes of Health, Bethesda, Maryland
Brigette & Daniel Keaser, International Monetary Fund, Washington, DC
Stewart Glass, New York, New York
Richmond Hospital, Richmond, Virginia
Education
BFA: VCU, formerly Richmond Professional Institute, Richmond, Virginia
Parsons School of Design
Konstfackskolan, Stockholm, Sweden
The Corcoran School, Advanced Painting
Pyramid Atlantic, Paper Making