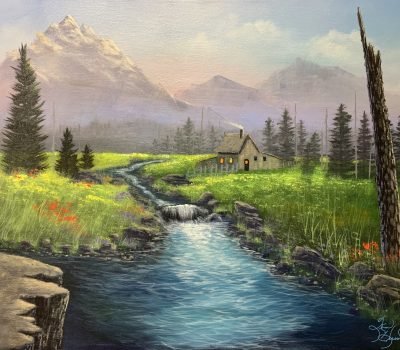 Artist Biography:
I began painting in 2013 after my youngest son, Jonathan, began his 2nd semester in college.  I had a sudden realization… "wait, I can have my own life now."   I was working to decorate my new home and thought how hard could it be to create my own paintings for my walls.  So I went to my local Michael's craft store and signed up to take some painting classes.  I discovered I had a knack for painting that I never knew I had.  I heard some of the other students talk about an art teacher, Jerry Yarnell, frequently.  I looked him up online and saw that his art school was just a couple hours away so I began to spend two days every few months at the Yarnell School of Fine Art in Skiatook, Oklahoma.  Under Jerry's tutelage, I began to grow as an artist very quickly.  I moved to Berlin, Maryland in 2015 and now study with Jerry once a year.  I am hopeful that art will be my 2nd career that will continue to the end of my life.  I am also hopeful that it will allow me to earn some mad money to continue my adventures in retirement.
My 1st career keeps the left side of my brain occupied analyzing and problem solving.  My favorite lesson about art comes from Winston Churchill where he describes why he took up art late in life during WWII.  He said that when your brain is working a problem and you try to get away from the problem and rest, your brain seizes the problem even more fervently.  The only way to rest your mind is to use a different part of it.    This is one of my favorite life lessons.  Doing art is recovery and rest for a tired, worried and anxious mind.
I love people, experiences and travel.  I am passionate about our military and veterans.  Their service and sacrifice for us can never be repaid, but I want to honor them every chance I get.  As my son, Jonathan, is now serving in the US Army, art provides a refuge for my aching momma heart and the worry that goes with his deployments.  I see my son in every soldier I encounter, and they are all sons and daughters to me.  Each brush stroke is filled with love and hope that each one comes home.