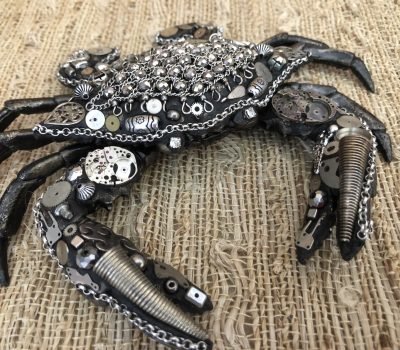 Artist Statement/Biography:
I enjoy creating a variety of pieces with whimsical patterns using stained glass, tiles, broken dishes and found objects. My inspiration comes from the beach, the bay and the wonderful personalities of my family and friends.  I love upcycling bits of possessions to create a work of art that honors memories of a loved one, through personalized embellished crabs and other creatures, or through a stained glass or pique assiette portrait.  Repurposing furniture into works of art is a way to blend creativity and functionality and to enjoy art in our everyday lives.
Working for years as an attorney and professor, I am now thrilled to be working full time on creating art and finding joy piece by piece!
In addition to the Art League of Ocean City, her work can be found near her home in Ellicott City, as well as in Frederick, Sykesville, Catonsville and Cambridge, MD.