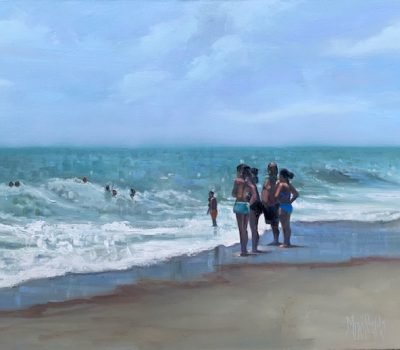 Artist Biography:
Maggii Sarfaty is an impressionist painter working in oil and watercolor, capturing the coastal beauty of the Delmarva Peninsula.
Born in 1965 in Baltimore Maryland, Maggii has had a life long love affair with art. Her artistic Mother and Grandmother encouraged her at a very early age to notice subtleties in light and color in her surroundings. Maggii studied at The Maryland Institute College of Art and began a career as a muralist, decorative painter and part time theatrical set designer.
In 2015 Maggii entered her first Plein Air competition winning a prize and selling her painting right off the easel. This small success prompted an immersion into the plein air experience.The joy of painting from life in the open air has been a driving factor in her growth as an artist.
Maggii is especially inspired by master impressionists, Mary Cassat, Joaquin Sorolla and Claude Monet. A special thanks goes to her good friend and mentor, PAE alumni Diane DuBois Mullaly who invited her to paint regularly with Plein Air Painters of the Chesapeake Bay. Her encouragement and support has been invaluable
Maggii enjoys teaching oil and watercolor at The Academy Art Museum, The Ocean City Center for the Arts and The Dorchester Center for the Arts. She is a member of Plein Air Painters of the Chesapeake Bay and The Working Artists Forum
Honors
Artist Paint OC, Quick Draw 2015 ,3rd place
Paint Bethany Beach, Quick Draw 2016, 3rd place
Artist Paint OC 2107, Best Lifestyle
Paint Bethany Beach 2017, 2nd place, 1st place Quick Draw & Honorable Mention
Sanibel Shell Show 2018, 2nd place artistic division
Paint Annapolis 2018, 3rd place, public artist quick draw, , 1st place, public artist, main street
Rehoboth Art League 2018 Coastal Paint Out, Juried Artist, 1st place, Best Townscape.
Paint Annapolis 2019, 1st place Quick Draw, 3rd place Nocturne
Chestertown River Arts 2019, Paint the Town, Best in Show
Caroline County Council of the Arts 2019 , 1st place Spring Fling
Downtown Dover Partnership 2019, Paint Dover, 2nd place & Best in Show
Exhibits
Small Holiday Works , South Street Gallery Easton MD 2017
Plein Air Painters of the Chesapeake Bay, Eastern Shore Land Conservancy 2018
World of Wonder , Solo Show , Ouvert ,Easton MD 2018
Local Color , Tidewater Inn , Easton MD , 2018
Paint Annapolis, Public Artists, Circle Gallery, Annapolis MD 2019
Coastal Reflections, Julie River and Maggii Sarfaty  Dorchester Center for the Arts Cambridge MD 2019
Local Color, Tidewater Inn , Easton MD , 2019