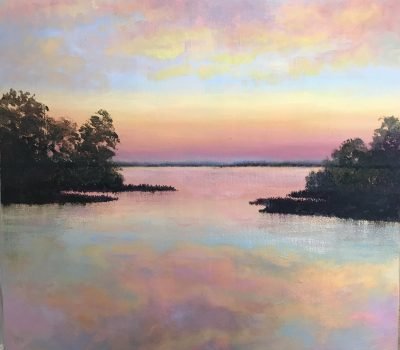 Marian Bickerstaff, originally from Telford, PA has been painting in oil since the late 70's starting with a paint set received as a gift. She studied with several painters locally in Southeast PA and at Montgomery County Community College (PA). She received several awards including two blue ribbons from the Perkiomen Valley Art League. In 1990, one of her pieces – "Skippack Barn in Snow II", was chosen for the cover of the Souderton Independent's Christmas Insert.
After retiring from a 37-year banking career, she and her husband moved to Ocean Pines, MD in 2007 and her retirement goal was to devote more time to her artwork. She immediately joined the Art League of Ocean City and began taking classes and workshops, experimenting with oils, acrylics, collage, mixed media and pastels. Her focus continues to be painting in oil which generally convey a sense of place, light, and luminosity. Her acrylic and mixed media work is rich in color and surface texture, as she continues to experiment with surface treatments and techniques.
Ms. Bickerstaff has won numerous awards at the Art League of Ocean City and in juried shows at the Worcester County Arts Council. She has also been a featured local Artist in the Spotlight in the Daily Times.  In addition to painting, she also enjoys the creativity of photography manipulation and computer-generated design. She served as President of the Board of Directors of the Art League of Ocean City 2013-2018, and is a Co-op Artist at the Worcester County Arts Council. When not painting, she is active in community service at the Art League of OC, the Community Church at Ocean Pines, PEO Chapter AK, MD, Worcester County Arts Council, and the Ocean Pines Garden Club.
Artist Vision Statement: "It is a joy for me to try to capture the wonders of the world of nature around us. I am particularly fascinated by the changing light and its effects on many subjects, especially water. I love the beauty of sunsets, clouds and mists and enjoy trying to capture the Master's handiwork. I also enjoy the freedom and a thought process of "I wonder what would happen if…" when working with mixed media."