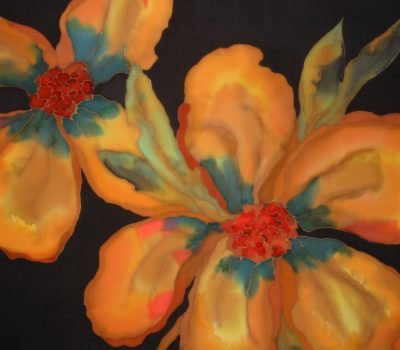 Mitzi Ash is a visual artist recognized for her large-scale, organic paintings that suggest the natural world. Using
luxurious white silk and color-rich dyes, Mitzi invites us to marvel at the beauty of flowers, leaves, and trees through
her use of shape, form, and color, capturing at once their simplicity and complexity. A resident of Ocean Pines, MD, Mitzi is a member of the Worcester County Arts Council, the Art League of Ocean City, the Rehoboth Art League and Silk Painters International. She has been painting on silk since 2001. She was a featured artist at the "Emerging Women" art show in Shepherdstown, West Virginia in 2005. Mitzi received the 2012 VIA Award at the Rehoboth Art League Fine Art Exhibition. In 2013, The Art League of Ocean City judged "Together Again" as Best in Show. In 2015 the Worcester County Arts Council awarded Mitzi 2nd place for "Tree Rings" and "Blessings," respectively. Mitzi received 1st place for wearable art from the Rehoboth Art League in 2016. In 2017, Mitzi assembled an international
exhibition of silk painting at the Ocean City Center for the Arts. In 2018, her painting "I Have Been Waiting for Spring" earned an Honorable Mention in a juried show at Worcester County Arts Council, Berlin, MD.