January 2023 Exhibits
January 6 @ 9:00 am

-

January 28 @ 4:00 pm
Event Navigation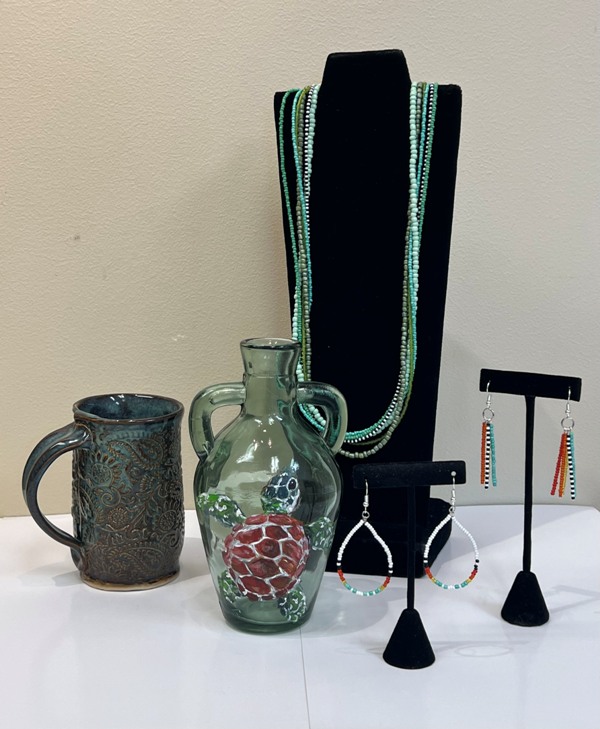 Featured in the Thaler Gallery:
Shared Visions
, an annual collaboration of literary and visual art. This year, writers selected a piece of artwork to spark their creativity and used it as inspiration for their writings. Read their poetry and short prose hanging in the main gallery, displayed alongside the artwork that inspired them! Showcasing local writers and artist members of the Art League of Ocean City.
(pictured: "Waiting", watercolor by Isabel Pizzolato)
Save the date for the "Shared Visions" Reading: Tuesday January 17, 6-8pm. Meet the artists and writers of this year's "Shared Visions" collaboration, on display for the month of January. Hear readings of the poetry and prose inspired by the artwork on display. Free and open to the public.
Click here to view the artwork and writings online.
Featured in the Sisson Galleria:
Force of Nature
, all media group show exploring the power and beauty of weather. With a rise in extreme weather events, this exhibit seeks to highlight the effects of climate change through weather. See scenes of stormy skies, heavy snow, heat waves (or other weather conditions) as a reminder of the impact of weather on our lives and world around us. Exhibit judge: Ray Ewing, plein air artist and instructor.
Click here to view the award winners online.
In Studio E:
Sarah Hancock
was born and raised in Ocean City, MD. In eighth grade, she first started designing characters and stories based on classic tales and music compositions. Hancock spent her first two years of college exploring traditional wet media such as oil, watercolor and acrylic with realism as her primary painting style. Portraiture of original characters was her primary subject matter. Since then, Hancock has discovered a love for purely decorative works, focusing on the act of making, and surface quality like color and texture. Hancock is completing her B.F.A degree at Salisbury University with a focus in painting, new media, and ceramics with a minor in art history.
Click here to view a selection of artwork online.
In the Spotlight Gallery:
Cindy Strouse 
- grew up in Wayne, NJ. Currently Cindy lives in Frankford, Delaware with her husband and two Portuguese Water Dogs. Growing up, Cindy was always interested in crafts, and still sews often. She graduated Cum Laude from Rutgers College of Pharmacy and worked in retail pharmacy where she would design and execute dramatic windows for the store. She then moved into the pharmaceutical industry for many years while raising her son, Benjamin. It was not until she retired from the industry that she was able to return to crafting, which inspired her to take the next steps and learn to seriously draw and paint. Cindy has studied watercolor under Alexis Lavine, Janet Rogers, Richard K. Kaiser, Penny Kritt, Elizabeth Collard, and Barbara DiLorenzo. She also studied acrylics under Donna H. Barron, Charles D. Viera and Ray Brown and studied pastels under Mark Collins. Picture book writing and illustration has been studied under Barbara DiLorenzo and Abigail Rayner. She has also attended numerous other workshops and virtual classes. Cindy is also part of a pet therapy team with her oldest dog, Marina. They spend a lot of time in libraries and schools helping kids improve their reading and other skills as part of PAWS FOR PEOPLE. They have reached the rank of Therapy Dog Excellent by American Kennel Club for completing over 200 therapy dog visits. This has led to her interest in writing and illustrating picture books. Both of her Portuguese Water Dogs share her love of swimming. Cindy strives to capture the emotion and serenity in her paintings and drawings of landscape, people, flowers and wildlife. Living by the ocean and on a lake, she focuses most of her art on the subjects around where she now lives. She also travels and seeks out interesting people in interesting settings that speak to her or tell a story. Her interest has also taken her into the world of children's picture books as an author and illustrator.
Click here to view a selection of artwork online.
In the Artisan Showcase:
Art League of Ocean City Staff
- featuring a variety of artwork handcrafted by our staff. These "Staff Selections" include miniature paintings, handcrafted jewelry, and more. Featured artists include: Elaine Bean, Katie Brown, Megan Burak, Nancy Dofflemyer, Kerry Doran, Katrin Huber, Kacie Neeb, Aubrey Sizemore, and Rina Thaler.
Click here to view a selection of artwork online.