Originals Online
September 30, 2020 @ 7:00 pm

-

8:30 pm
Event Navigation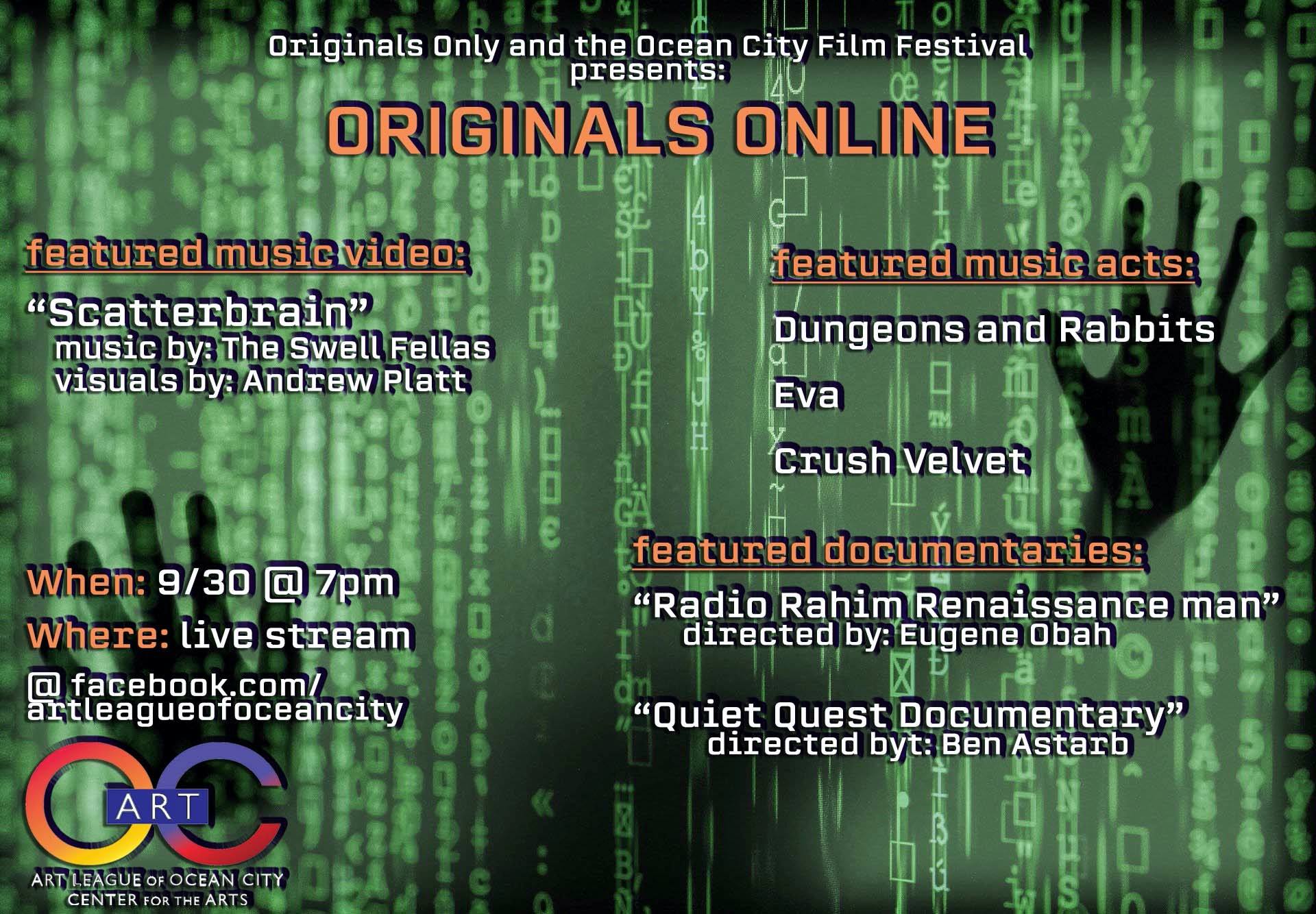 Free! A special online edition of our monthly Originals Only: a place for music and more! Tune in to the Art League of Ocean City's Facebook page (www.facebook.com/artleagueofoceancity) September 30 at 7pm for performances from local up-and-coming artists.
THE LINE UP
Music:
Dungeons and Rabbits: Prog wannabe from Ocean City, MD, Dylan Jones awkwardly tries to be a one man metal band. He hates playing guitar so he thought a banjo would be funnier. https://dungeonsandrabbits1.bandcamp.com/album/mustache-garden
Eva: Local solo musician from Salisbury, MD. Being in bands such as Denim Hat Trick and Tokyo Jukebox, now you will get to hear Eva as a solo artist.
Crush Velvet: Rising like a phoenix from the ashes of Big Chap, Crush Velvet is here to bring some serious Salisbury slow-core.
Music Videos:
The Swell Fellas: Scatterbrain. Visuals by Andre Platt. The Swell Fellas from Ocean City are modern psychedelic rock legends on the east coast. Get ready for The Swell Fellas to take you on a journey with thier music video "Scatterbrain" with visuals from Andrew Platt. https://theswellfellas.bandcamp.com/
"Radio Rahim Renaissance Man" is a documentary about DC's own socially conscious Islamic rapper Radio Rahim. Directed by Eugene Obah. 17minutes.
"Quiet Quest Documentary" depicts a unique underground audio/video event experience that reigned supreme on the lower Eastern Shore for a number of years. Directed by Ben Astarb. 24 minutes.