The Orem and Harriet Robinson Fellowship for Contemporary Art and Community Engagement
Past Recipients
2021: Bill Wolff
2020: John Mosher
2019: Brooke Rogers
Mission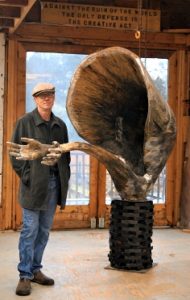 The Orem and Harriet Robinson Fellowship was established to promote understanding of contemporary art through education, outreach, and exhibitions. The Art League of Ocean City enjoys tremendous support for the creative traditions of the lower shore, but sharing modern and contemporary art in our area sometimes requires special effort. By tapping the expertise of working artists, educators, and other arts professionals in the region, ALOC adds new art and ideas to the mix of programming they offer throughout the year.
2021 Fellow for Contemporary Art and
Community Engagement, Bill Wolff.
Exhibitions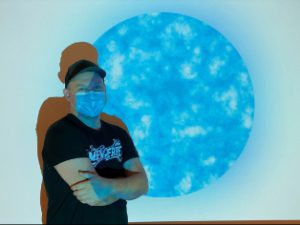 In addition to organizing exhibitions of contemporary art, the Robinson Fellow also advises the board on exhibition strategies for promoting new art to members and visitors. In 2019 inaugural fellow, Brooke Rogers, curated two group shows in the Thaler Gallery and mounted a solo show of his own small paintings and works on paper in Studio E. In 2020, John Mosher juried the annual Corporate Partner juried group show, and exhibited a solo show featuring mixed media collages, paintings, and multimedia installation.
"Curiosities", featuring works by 202 Fellow John Mosher which ran from August 7-29, 2020 at the Ocean City Center for the Arts.
Outreach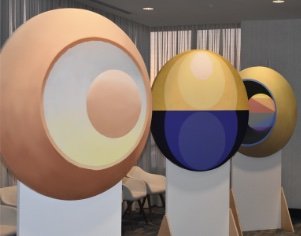 While each new fellow brings their own experiences and passions to the role, outreach to the community beyond the walls of our galleries defines the position. The art league partnered with two new luxury hotels in Ocean City in 2019 to mount 'pop up' exhibitions of Brooke Rogers paintings. Exhibiting contemporary art in non-traditional settings allows the wider community–including people who may not normally visit an art gallery–to experience the joys of art.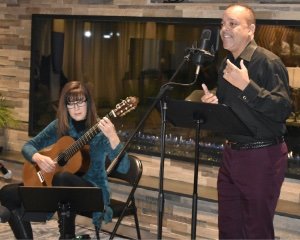 Brooke Rogers' work on view at the annual fund raiser, held in 2019 at the new aLoft Hotel on 45th Street.
"An Evening of Art & Song", featured Brooke's abstract
paintings as well as a musical performance by vocalist
John Wesley Wright and classical guitarist, Danielle Cumming.
Education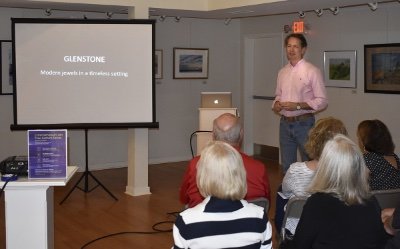 The fellow may lead a bus trip to a contemporary art museum, like Glenstone. Brooke offered a series of lectures on contemporary art throughout the summer and fall, including a primer on many of the artists in the Glenstone collection. The lectures, which played to very supportive crowds throughout the series, included themes on abstract art such as, "The Modern Ocean: How abstract artists are influence by rivers, oceans and other bodies of water", and "Faith in Art: Abstract art and the unbroken search for meaning and community." He also hosted a group of art leagues supporters at a Saturday afternoon luncheon and studio visit, where he discussed his work and answered questions about his painting process.
Brooke Rogers lectured on the Glenstone Collection prior to leading a bus trip
to the Glenstone Collection of modern and contemporary art in June of 2019.
Position
The Orem and Harriet Robinson Fellowship fosters the relationship between a respected artist or other arts professional, art league members, and the community at large. The relationship is mutually beneficial, as the fellow brings expertise and in-depth understanding of some facet of contemporary art, and the art league brings a thriving community of art supporters and collectors. The fellow serves in a general advisory role, and each fellow brings their own area of interest that may include serving some of the following capacities:
Organize exhibition of their own or others work
Present lectures based on their special interest in art
Lead a museum trip out of the area to experience contemporary art
Advocate for the Art League of Ocean City with the statewide art community
Attend prominent Art League events
Engage with student outreach populations
Teach an art workshop
Lead a community engagement initiative
The position is granted annually, and the information about the fellow including bio and image will be included on our website and in our publications. The position is designed to enhance and provide growth for both the artist-fellow and the Art League of Ocean City. 
Laura Jenkins Endows Fellowship in Honor of Her Parents
The Orem and Harriet Robinson Fellowship was funded by local businesswoman, artist, and board member Laura Jenkins honoring her parents who were both educators. Orem Robinson was Dean of Students at Salisbury University and Harriet Robinson was principal at Pinehurst Elementary in Salisbury. Jenkins named this fellowship after them because of their dedication and love for education and art.
"This fellowship means a lot to me, because they were my biggest fans," Jenkins continued. "I didn't come to art until later in life either, and they were such cheerleaders in spurring me on. I wanted to be part of this fellowship because this is how we grow our circle, reaching out and engaging with other sectors of the community, giving back at a level that can bring in another level of (art) collector and educate people to fine art."