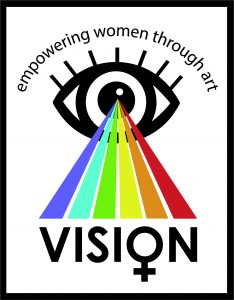 The VISION show, curated by sister artists Deborah Rolig and Diane Gray, focuses on the RISE, GROWTH and PROGRESS of women during the last 100 years. The artwork in this gallery-wide show reflects the everyday life and challenges of women – the self-discovery, the victories, the defeats, the mundane, and the extravagant. This is an opportunity to celebrate women's UNITY, STRENGTH, and VISION for the future.
Exhibit on display: October 2-31, 2020
Click here to view online.
Galleries open daily Mon-Fri 9-4pm, Sat-Sun 11-4pm.
Extended hours Friday October 2: open until 7pm.
Upcoming Events:
Please note: masks and distancing required at all in-person events.
First Friday October 2, Extended Gallery Hours, open until 7pm. No food/drinks will be served.
Saturday October 3, 11-4pm, Artisan Marketplace at the Arts Center.
Tuesday October 6, 7pm, Online Spoken Word Performance featuring Ash'iz. Watch on our Facebook page.
Thursday October 8, 10-4pm, In-Person Collage Workshop with Deborah Rolig
"Make 6 Creative Collages in 6 Hours" : Up for a creative challenge? Artist Deb Rolig will spark your spontaneity and ignite that need to express yourself as you create six 4′ x 6″ collages. Not only is this an artistic endeavor, but a lesson in trusting your intuition, working with it and following through. We will focus on layering techniques to provide an interesting foundation or background that has depth, creating a theme and establishing focal points. Let's have fun with this! Your message can be whimsical or inspirational.
Cost: $60 Members, $75 Non-Members, (includes some of the material). Click here for more information and to register.

Tuesday October 13, 7pm, Free Online Lecture with Dr. Judy Pierson
"The Evolving Visions of Women's Psychological Well-Being": Explore the history of how women have been viewed through a psychological lens, starting with Freud and ending with feminist theories that emphasize connectedness and empowerment.
FREE and open to all. Join on Zoom with the Meeting ID: 843 4922 4846 and Password: 642571
Saturday October 17, 7pm, Film Night – Online, featuring films by female filmmakers. Click here for the lineup and watch on our Facebook page. Available to view for up to 24 hours after livestream.
Friday October 23, 7pm, SHEro Awards – Online
A recognition of unsung SHEros who have shown courage in facing adversity and dug-in to thrive and persevere. SHEro nominees do not have to be related to the arts, but must be residents of Delmarva and 18 years of age or older.
Join us on Facebook Live, Friday 7pm, as we honor these incredible women for their selfless contributions to our community.
2020 SHEro Award Recipients:
Marian Bickerstaff
Debbi Dean-Colley
Ilyana Kadushin
Jean "Bean" Keagle
Nicole Morris
Kim Royster
Wednesday October 28, 7pm, Originals Only – Online, featuring original music (and more!) by all female performers. Watch on our Facebook page.