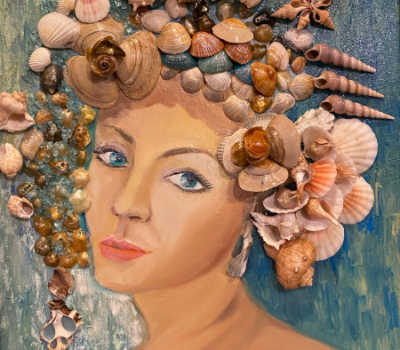 Artist Statement:
Gayane Minasyan is a painter and collage artist whose prolific work shows women's beauty and portraiture. Each of her paintings tells a story. Post-Covid with the predominance of abstract art, there is a lot of "feeling, hope, wellness, self-care" but not much of a story. Gayane believes it is time again for paintings to share a message of hope, faith, and beauty and convey the artist's outlook on the world. Her goal is to help all ages, especially seniors, find a way to connect their bodies, mind, and soul through their creativity. She said, "You don't need to be an artist to start painting." We will learn to communicate via art you love and find your joy.
When it comes to reclaiming the joy of life, we should start with taking care of ourselves, making an effort to be nice to each other, and enjoying what WE LOVE and ADMIRE. Art is your choice of joy and happiness!
Artist Biography:
Gayane Minasyan was born in Yerevan, Armenia. She is the youngest of three children. Minasyan knew from an early age that she wanted to be an artist, although she got her master's in teaching and IT programming. Gayane and her family moved to the United States in 1998.
In March 2020, Minasyan lost her colleague and started remote working, and disconnected from her social life; this resulted in feelings of isolation and added stress. She learned about the power of art. Delving into her art, Gayane felt the relief of her loneliness and the stress of her isolation since she was still working remotely. Gayane has always been interested in art; however, until that day, I had never held a pencil or created artwork; it was evident that it was a special day that changed her life.
Gayane's early paintings included flowers, animals, and the spirit of beauty. Though later inspired by the art of Pino Daeni, an Italian-American book illustrator and artist, an expert in the painting of feminine, romantic women and strong men, Minasyan realized that it was her passion to follow in his footsteps. Since then, she has been painting beautiful women, and faces and doing collages. Those collages included coins, feathers, shells, glass, and more.