Make an impression that will last longer than your footprints in the sand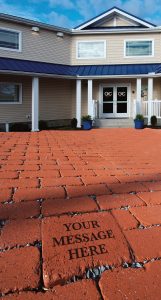 Visitors to the Ocean City Center for the Arts enter through a courtyard of pavers that welcomes them to one of the most unique, creative and memorable places in the resort. Now you can customize your own paver and leave an impression that will last for years.
By purchasing a custom paver, you embed your message in red clay for all to see and celebrate. At the same time, your purchase supports the work of the nonprofit Art League of Ocean City, whose mission promotes the visual arts through education, exhibits, scholarships and community projects.
Pavers come in one size, 8×8-inches, are $150 and have room for a message up to six lines.
Click Here for a Personalized Courtyard Order Form.
Personalize your own paver
Give a gift that will leave a lasting impression
Advertise a business, civic club or organization
Memorialize a loved one
Send a personal message
Celebrate birthdays or anniversaries
Honor children, grandchildren or a family member or pet
Remember a special date
Show your commitment to the arts
Leave a lasting footprint of your visit to Ocean City
Click Here for a Personalized Courtyard Order Form.