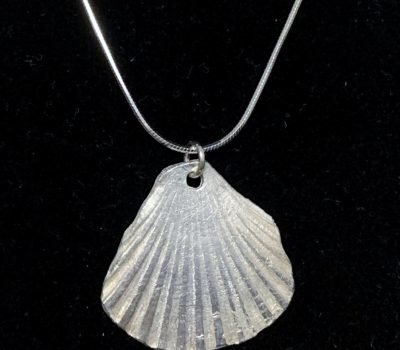 Artist Statement:
Kate Hammen lives in Ellicott City and loves art in all forms, especially when it reflects natural patterns from nature.  Kate took pottery classes for several years and discovered Precious Metal Clay (PMC) about 10 years ago. Kate took one PMC class and for the most part is self-taught. She liked the class so much she found a kiln on Craigslist and bought it so that she could continue making pieces at home. PMC is a clay that has an organic binder and contains tiny bits of sterling silver. At the right temperature, the clay burns off leaving behind only silver.
Kate has been making jewelry in her home workshop for several years and she uses a variety of tools found around the house. Kate enjoys using patterns from things found in nature that she can preserve and turn into wearable art. She loves using seashells for their texture and this past summer, her herb garden was an inspiration. All of her pieces are handmade and one-of-a-kind.
Kate resides in Ellicott City, with her husband Robert, and daughter, Mae. This is an artistic outlet for Kate as she has a career as a Federal Product Manager. Kate mainly displays in small art shows and donates pieces to different charities and silent auctions.