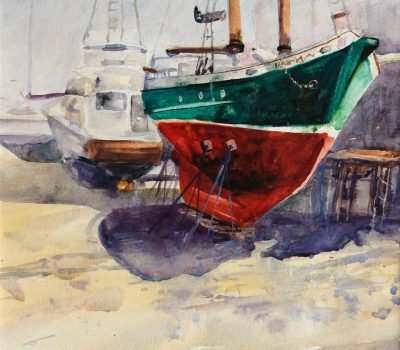 Artist's Statement:
The aqueous effects inherent in the process of watercolor painting have always appealed to my aesthetic senses. Being a boater and a lover of the outdoors, plein air painting is my passion and many pieces are completed from the bow of my anchored boat. Watercolor is the perfect medium for this process.
If the weather doesn't cooperate and I'm in the studio, then I must paint "from life". The immediacy of this process makes me experience the subject with all my senses, inevitably creating a more "alive" painting, filled with energetic brushwork and layers of reflected color.
After having the privilege of teaching high school art for 32 years, I am now enjoying the time to paint whenever the "light is right".