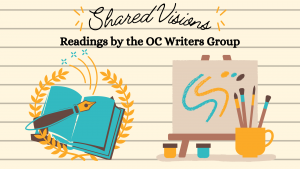 By Logan Dubel
Despite the resounding presence of individual forms of art in society, it is not common that we see works by different artists collide and form something brand new, with extraordinary meaning.
"Shared Visions," a partnership between the Art League of Ocean City and the Ocean City Writer's Group, is a unique example of a creative explosion. Now in its eighth year, the event pairs artists and writers who collaborate to produce paintings, drawings, short stories, and poems based on each other's work. Sometimes, writers draft their work first and hand it off to the artists to interpret, while in other years, the process moves in reverse.  This year, the artists went first.
The in-person Shared Visions show opens Jan. 17 at the Ocean City Center for the Arts where the artwork and the written words will be exhibited side-by-side through Feb. 27. On Jan. 19, the Art League will host an evening of readings by the writers on Zoom.
First imagined by Rina Thaler, executive director of the Art League of Ocean City, and Ruth Wanberg-Alcorn, head of the Ocean City Writer's Group at the Ocean City branch of the Worcester County Library, Shared Visions truly represents the unification of community-based arts.
Wanberg-Alcorn reflected on the partnership. "In 2012, we started talking about uniting forces. It took us until October 2013 to put it together, but it was all worth it. Truly, it was a dream come true. I always laugh with Rina because we really did it."
Thaler echoes her friend's sentiments about the enduring and shining success of the initiative. "As we kept going, the project became more of a bonding experience between the artists and writers," she said. "When you put two creative forces together, the sum is so much greater than the pieces alone."
For the upcoming exhibit, 25 artists submitted images first, then 20 writers chose what art spoke to them to put into words. Sometimes there can be stunning and unexpected results.
"One person might have something totally different in mind, but someone else can look at it and have another very interesting perception," Thaler said. "That's what this is all about. We open people's minds and give them a space to create."
Wanberg-Alcorn herself wrote "The Goldilocks Zone" to accompany Mitzi Ash's silk painting, "Driving Rain." Like many of her fellow writers, her work for the 2021 exhibit includes a nod to these unprecedented times. "Goldilocks made a mess of the bears' house. We made a mess of the world," Wanberg-Alcorn explained.
Wanberg-Alcorn says writing has been the perfect safeguard over the past several months. For the writer's group, their motivations to write are much deeper than a distraction while homebound.
"I kept our meetings going virtually throughout quarantine, and a lot of it was just getting together and sharing our feelings, as well as our inspirations," she said. "Being isolated is so tough. It is vital to have a focus and people to turn to. You need people to help you process it all.
"I've realized creativity can truly halt depression. I'm 77 years old, and I have been inside since March 20th. If I didn't have this, I don't know what I would be doing. This is why it was so important to make sure Shared Visions was not another casualty of the pandemic."
In a normal year, the writers would have an in-person night of readings at the Arts Center near the artwork that inspired them.  This year, those readings have shifted to Zoom. The public is invited to the free event on Jan. 19 at 6 p.m.
"It won't be the same as our typical celebration when everyone can gather and discuss all of the amazing work they put together," Thaler said. "At the same time, I think this will be much more accessible for many people and might help to spread our work far beyond this town."
For more information about the program and how to watch the night of readings, visit wwwArtLeagueofOceanCity.org or call 410-524-9433.