Originals Online
July 29, 2020 @ 7:00 pm

-

8:30 pm
Event Navigation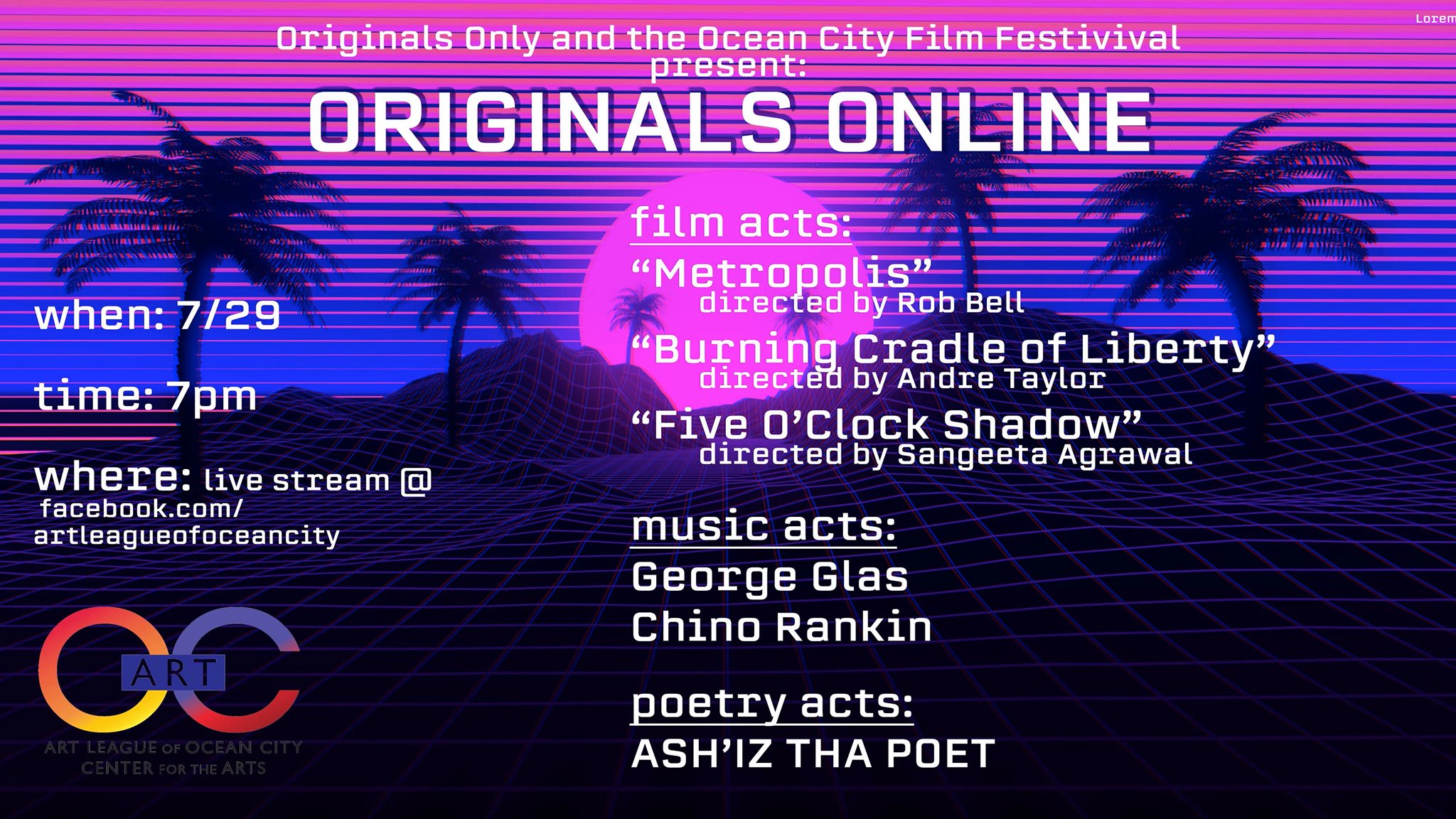 Free! A special online edition of our monthly Originals Only: a place for music and more! Tune in to the Art League of Ocean City's Facebook page (www.facebook.com/artleagueofoceancity) July 29 at 7pm for performances from local up-and-coming artists. Lineup subject to change.
MUSIC
George Glas – Hip Hop producer, beat maker, and rapper from Bishopville, MD, will sooth you with relaxing and inspiring beats.
Chino Rankin – Reggae musician from Ocean Pines, MD, Chino Rankin brings all good vibes with his contagious grooves.
POETRY BY ASH'IZ THA POET
FILMS
"Metropolis" by Rob Bell. Dynamic scenes of Philadelphia set to voicemails tell the story of a photographer coping with leaving home. 5 minutes.
"Burning Cradle of Liberty" by Andre Taylor. On May 13, 1985, Philadelphia police dropped a bomb on a home in the 6200 block of Osage Avenue that was occupied by MOVE members. Eleven of the 13 people inside burned to death while two people, including Ramona Africa, escaped. This piece documents the events from that day from the perspective of Ramona Africa and journalist Kitty Caparella. I learned much through research about this incident in American history and summed it up in this short video. 14 minutes.
"Five O'Clock Shadow" by Sangeeta Agrawal. Five O'Clock Shadow, is the story of an Indian-American mother who is the victim of racial abuse. Her worst fear rises to the surface and for the first time ever, she asks the question: Do we really belong here? 7 minutes.