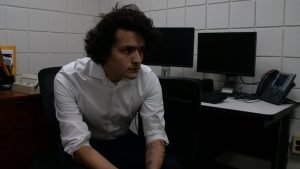 Written by Ocean City Film Festival Director, William (B.L.) Strang-Moya.
A global pandemic, who'd've thunk? As a person working in the film/video industry, I couldn't be more thankful that freelancing is no longer my main hustle. Both my wife and I are fortunate to be teleworking. And like so many others that have transitioned to "telework," it seems that there are a few more hours in each day than there used to be. Quarantine has actually given me ample time to catch up on personal projects.
This period of isolation is reminiscent to me of Robert Eggers' "The Lighthouse." I think of Willem Dafoe's line "Tis when the workin' stops when yer twixt wind and water. Doldrums. Doldrums. Eviler than the Devil. Boredom makes men to villains… And the water goes quick, lad… vanished. And what's the answer?" In the film, the answer is basically enough alcohol to cater the set of Mad Men. In real life? I'm going to have to say artistic expression.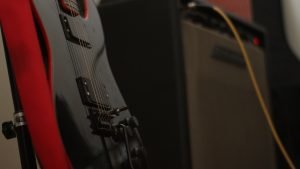 This quarantine, however maddening, has become a great source of creative exploration for me. Generally I have an air-tight life/work schedule and only in its small cracks and crevices can I indulge my musical talent. For years I have been playing, writing, and recording my own songs. Now that I am confined to my apartment, unbound by commutes or office hours, I have been able to sit down and regularly exercise my musical creativity.
Every-other day for the past 4 weeks, approximately 2-4pm, I have been stowed away in my DIY studio (corner of the den in my one-bedroom apartment). Some days I will play a clean Telecaster combined with a Mooer Echoverb into a solid-state Peavey, and other days it will simply be a Microkorg synthesizer. Basically I am writing a bunch of bright instrumental post-punk tunes with surf-inspired lead guitars.
Over the past year I have been writing and practicing these original songs, all of which I thought "maybe I'll record these some time, IF I ever have the time." So here I am with the time. Honestly I also forgot that when you apply yourself and practice an instrument regularly, you tend to get better at it. Prior to quarantine, I probably picked up my guitar only a couple times a month.
My advice to anyone with idle hands during this quarantine is to find what inspires you and nurture it. It is not always easy to find the discipline for a day-to-day schedule in state-mandated isolation, but you should never deny yourself a moment to feel inspired. Before you know it, that creative hobby of yours will soon be a competitive talent.
Or you can also do what my wife and I did, which is adopt a puppy. Dolly is a 2-month old Shih-Tzu/Lhasa Apso mix. Nicknames include: Doll-Baby, Angel-Baby, Weasel, Board-Certified Weasel, and Poop Monster.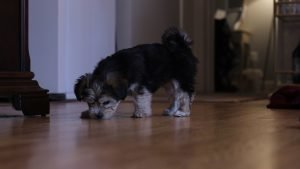 Also, please note some of my recent quarantine Film/TV binges in no particular order:
The Ocean City Film Festival weekly film streams
Sopranos
Tiger King
Better Call Saul
Grizzly Man
Beautiful Boy
God Knows Where I Am
Jackass, Jackass 2, Jackass 3
Girls
Emma
The Lighthouse