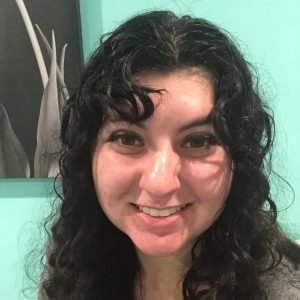 By Morgan Pilz
After several months of the Ocean City Center for the Arts being closed, I was so thrilled to finally go in for a session this past Tuesday. I chose an acrylic painting class with Joanne Guilfoil that allows students to work on their own projects, and it was fantastic.
Because of COVID, class sizes are limited to nine people inside the room, so there weren't many people in there, but that was a huge advantage for me because I was able to create two different pieces of work.
The first is a project for myself that will definitely come to fruition by the end of this year, I hope, and Joanne was able to help me work toward that goal by giving me advice. This project, which I refuse to show or name because I do not want to jinx myself, was a sketch piece. I've literally never done one of those, especially on canvas, so her insight was so important. It really helped me get a clearer understanding of what I am looking for in this project and why it wasn't important to try and sketch the whole thing perfectly on the first try.
It definitely took more than one or two tries to get my idea across, but she was so great at helping me get there that I ended up loving the piece. However, I decided not to finish it because I wanted to get my true artistic love done before the time was up — painting!
Ever since I started painting last October, it's become such an amazing hobby for me. I get to enjoy mixing the colors up and finding new ways to create patterns and designs for my pieces.
I'll admit I'm pretty cliché; I love doing water pieces. Beach scenes, waterfalls, the works. In fact, most of my pieces will, inevitably, involve some sort of body of water. For this class I decided to perform my rendition of a picture I had taken when I was on the beach a long time ago.
(One of my tricks for painting is to take pictures of something I want to recreate for a later date. I have SO MANY ideas in store for later.)
Joanne was able to help me create the harder part of making the scene look somewhat more realistic. Making seafoam as though it had just washed up on the shore is something I've never done before, and she gave me creative advice on how to make that happen.
I haven't seen any more of her classes on the online calendar yet, but I will definitely recommend Joanne Guilfoil as an instructor. I give her a 9/10 for the experience. The only thing that kept her from a perfect score is that this was a free-range class, so she wasn't really teaching anything unless those in the course asked for help. However, she definitely gave some great techniques for myself.
I know there are a lot of you out there looking for things to do. Sign up for these classes. It's two or three hours of your day not worrying about COVID, school, bills, traffic, work or anything else that's clouding your minds. This is what the Art League was made for – enriching ourselves and seeing the world in a more artistic and beautiful light.
I hope to see some of you at some other events!