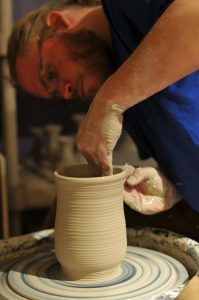 Written by: Angel Kontra
Sarah Finley describes Ocean City as her "home away from home." She signed her boyfriend, Mike Whitehurst, and herself up for photography and pottery classes at the Art League of Ocean City before they came to visit their timeshare in the city.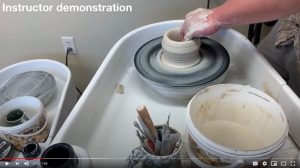 The class marked their first times making pottery, and they both had a good experience.
"It doesn't feel like you're forced to create, but you want to create, which is a really good feeling," Finley said.
The Art League of Ocean City is offering Clay Hand-Building and Wheel classes in-person. The classes can foster relaxation and creativity for the participating community members.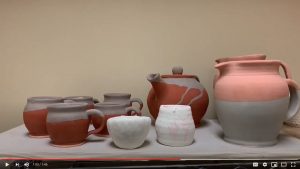 Robert "Robbie" Johnson has been making pottery for 15 years. He became the pottery studio manager for the Art League in August 2020.
He initially signed up to be a member of the Art League to exhibit his artwork there, and he later got into Studio D upstairs where he displays his work all the time. He teaches multiple classes throughout the week.
"Today was like a hand throwing or hand building – the students have the option to choose either one," Johnson said. "Basically, most people like to try the wheel because they don't have the option to a lot of the times, and so I facilitate the process of learning the wheel for the first time."
Johnson believes the art classes are important to the community.
He feels it is important to help facilitate students' creativity and expression in a comfortable manner to them. He said it is like therapy in a sense.
"You just get to be here, be still, be creative, and I think that is really good for people," Johnson said.
Click here to see the full interview!