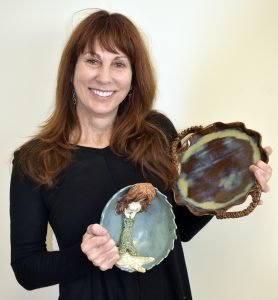 Written by Pottery Studio Manager, Nancy Barnas
I was on a two-week adventure travel trip in India with my siblings as the buzz of COVID-19 was escalating.  I never expected to be told all my classes had been canceled for two weeks and to self-quarantine upon my return.  I wasn't unhappy to do it, as I could get over my jet lag, cuddle my nearly abandoned cat, and take care of unpacking and laundry.  Two weeks, however, is a lot longer when you are regulated to stay indoors, something everybody can relate to now, so you can imagine how eager I was to get back to my routine and into the pottery studio again.  Ha.  On the evening of the last day of my self-quarantine, Governor Hogan announced the shelter-in-place mandate.  One of my pottery friends sent me a text with a sideways emoji with tears coming out of its eyes: LOL!
For years I've yearned to experience boredom as I did when I was a child and teenager.  I didn't really want to feel the uncomfortable sensations of boredom; I just wanted to feel free to slow down without shirking responsibilities.
I learned growing up never to admit to boredom, as my mother's response was to suggest emptying the dishwasher, dusting, folding clothes, raking leaves, vacuuming, picking up my room, washing dishes, ironing, sweeping, etc.  She was never short on ideas, so I learned quickly to keep quiet and find something to do on my own.  Once that lesson learned became a part of who I was, I never experienced boredom again.  Before the feeling could materialize, I would proactively find an activity. Come to think of it, when the feeling of boredom hit me way back then, I usually turned to arts and crafts as a soothing way to pass the time happily and constructively. Crocheting, needlepoint, embroidery and making bread dough ornaments that looked like the Ziggy cartoon were among my favorite ways to express myself.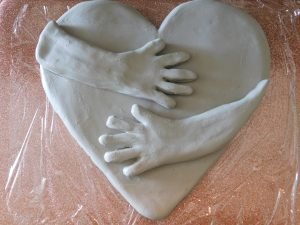 These past couple of months, I found myself returning to art often as a place of soul comfort. Keeping busy and productive during this slowdown has been key to diverting my mind from the devastating reality of the pandemic.  I've purged drawers, cabinets, and closets and will drop off the seven Hefty bags of excess to Diakonia this weekend.  I've learned to be thankful through all of this.  I've taken more walks to the beach in the last two months than in my ten years since moving here from California, and when I get to the beach, I really breathe in the salty air and listen to the roar of the waves.  I revel in being so close to the ocean that on a whim I can walk there and be swept away.
I'm thankful for FaceTime and Zoom for allowing me to imagine I'm with my family and friends as we enjoy morning coffee, wine or cocktails at sunset and show off our furry beasts as we hold them up to the cameras on our computers.  I'm taking more baths than showers, and finally using all those aromatic bath bombs I made during a class at the library and the other miscellaneous gifted bath salts that ended up hidden behind cleaning products in my bathroom closet.  I'm lighting candles on a daily basis.  During my morning ritual of Yoga with Adriene and evening dinner for one, the tiny flames are flickering.
Why wasn't I doing this every day?!  I took my life and blessings for granted.  Now, I'm appreciating every little thing for how wonderful it really is.  I'm thankful for the time to create, to think, and to reflect.  I've made rosemary lavender organic soap, bottles of chemical free mosquito repellent, Chicken tikka and dal using the spices bought from a spice wallah in Old Delhi, vegan mojito flavored lip balm with 25+ SPF, candles with crackling wood wicks scented with a variety of essential oils, earrings using sterling and semi-precious stones, incense burners, catnip pots, berry bowls with drip trays, pendants, hugging heARTs, and dinner plates out of clay picked up from the Arts Center.
I've learned by being alone to enjoy my own company, and that it's okay to talk to my cat and Alexa and to treat myself to sushi and sake for no reason at all.  And before a thought resembling boredom nears my mind, I just might reach for one of the ten gallons of paint I purchased last year and pop open a can.