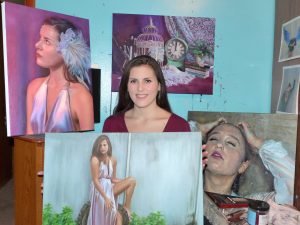 Written by Education Assistant & Social Media Manager, Megan Burak
I haven't been bored once during this pandemic. You heard that right, folks. Not once. I had what I consider to be two major life events miraculously happen smack-dab in the middle of all of this. I bought my first home and started a new business.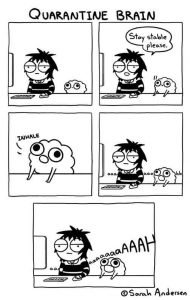 Mom always said I was my own worst enemy. But in my defense, I put an offer in on my home and started this new business way before the word, "coronavirus" was even a whisper in anyone's mind. We closed on the house at the end of March and the business was supposed to debut at Springfest…and that's no longer happening. So obviously the crazier things got, the higher my stress levels grew. Correlation does, in fact, equal causation here. As a disclaimer, I've had anxiety for as long as I can remember. I am a, "worst-case" scenario kind of person. And as all my fellow life-long anxiety sufferers will tell you, there are ways that you must train your brain to cope with it. For me, you start with the worst-case scenario and plan for everything you can do to avoid it. This might mean hour-long binges of (what some people might call) unhealthy internet research, but to each their own! I think it's okay to be selfish with your mental health right now. You have to do what you need to do in order to feel okay. Humankind has not experienced anything like this before. So, say, if you need to step away from everything and scroll through Facebook memes or watch ridiculous Tik-Tok videos of gen-z kids acting a fool, that's totally fine. (P.S. do people still say, "acting a fool"?).
While it has been stressful getting the new house ready to move into, it's also been a nice distraction. Shout out to my family and boyfriend for helping me paint the entire place even though none of us really knew what we were doing. I'm an artist, so you know I'll be in there soon with a tiny paintbrush filling in all the edges they missed. But I still appreciate it (don't be mad Mom, please still give me your vacuum cleaner)!
The best thing about this is that I'm still constantly surrounded by art. I'm still creating artwork for the new business (check out www.beachrealmcreations.com) and I've been involved with almost everything the Art League of OC has been working on. I'm proud that I'm able to say that we're still bringing the arts to the community in whatever virtual way we know how/learned how to do!
I know that being busy during this pandemic is not something many people will be able to relate to, but I also know that a lot of people are going through stress and anxiety right now, and that is something that we can all relate to. More than anything, I hope that our efforts have helped starve off some of your stress and boredom. It's okay to not be okay, just do the best you can right now. And if anything, you can take away the fact that writing this has been a huge stress reliever for me. So thank you for letting me be selfish. 😊
-Megan