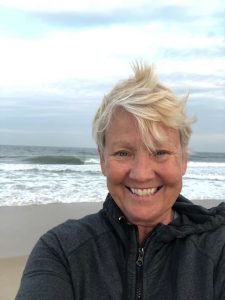 Written by Development & Event Coordinator, Robin Chiddo
When I retired from the University of Maryland in 2017, people said, "You're too young to retire, you have so much more to do here, what are you going to do?" I felt like I had had a very successful journey: starting my career out with the Washington Bullets and becoming the Director of Season Tickets; owning a beauty & fitness salon. After 20+ years at Maryland, I thought I was ready to enjoy retirement.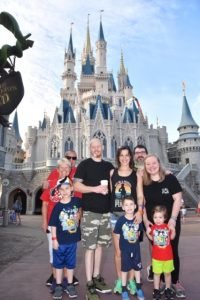 Well, those three years sure did go fast, and I have been as busy as ever. Every day I say to myself, "How did I ever have time to work?"  I'm enjoying every second, including time with our six grandkids, reading with the Ocean Pines Book Club (a gift of adventure with a group of delightful women), playing pickle ball, doing Disney with the grandkids, and visiting Greece and Santorini with ten best friends who feel like family.
When I retired, I moved to our Ocean City condo full time. Although people may think it is a cliché, I am here to tell you there is nothing more rejuvenating and exhilarating then being near the ocean!  It awakens every one of your senses. I walk on the beach and through the park, ride my bike, drive to Assateague, just surrounded by beauty.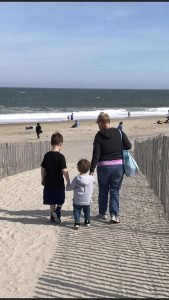 These daily adventures have inspired me to take up one of my passions that had taken a backseat…art.  I'm starting to paint again! I was an art major at the University of Maryland, but ended up getting my B.A. in communications, which served me well. But I am so happy to be painting again.  I have even shared this love of art with my grandchildren, and they have enthusiastically participated as well.
In my pursuit of expanding my artistic horizons, I came across the Art League of Ocean City. Intrigued, I started to explore their offerings. My mother always used to say, "Things happen for a reason."  At one of our Ocean Pines Book Club gatherings, our president, Marian Bickerstaff, organized a tour of the Ocean City Center for the Arts on 94th St.  I walked in, and needless to say, I was hooked!  As I walked around the gallery, my heart started to pump with excitement. The beautiful art, so many diverse mediums, the cheerful staff — I felt like I had landed in some kind of art paradise.
As I learned more about the Art League, I was so inspired with all the activities, classes, events, and community outreach. I attended some events, went to monthly First Fridays, took some lessons, and then realized I wanted to do more. So one day, I walked in and inquired about how to get more involved.  The opportunity came up to assist with the 2020 Film Festival, a fantastic experience. That evolved into now working as the Art League's Development and Events Coordinator. My mom, as always, was right. That gallery tour has led me to this wonderful position that will enable me to connect with so many people and hopefully continue the impact the arts have on our community.