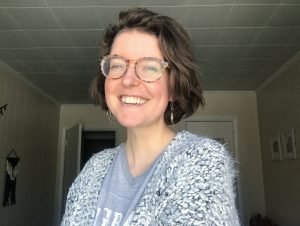 Written by Gallery Manager, Katie Brown
I've never done this before (written a blog or lived through a global pandemic). And as someone managing anxiety under normal circumstances, so many unknowns are overwhelming, to put it lightly. So, I've been searching for ways to regain some sense of control amidst all the uncertainties. Things may look different now, but that doesn't mean losing touch of the things we know and love. Here are a few ways I'm finding stability in such strange times.
Keep track of time – Whether it's looking at a calendar daily or literally writing in your journal each morning "Today's Wednesday…," it's a simple but effective countermeasure when all your days start running together. (Also good for reminding me when to water my plants.)
Separate your workspace –If you've found yourself having to work from home, it can feel like the boundaries between work and home life have all but disappeared. Find a space to designate a "work zone", find a playlist to only listen to while working, and change your clothes before "clocking in" (even if it's changing from night pajamas to day pajamas).
Technology is power – Use it! We're fortunate to live in a world equipped with things like Facetime and the internet. Call, text, video chat, take a virtual art class. Seeing someone's face (even through a screen) works magic, I promise.
Find art that speaks to you – It helps me understand my own thoughts and feelings when I see them reflected in art. Listen to music that suits your mood, seek out images that express what words can't. Museums, galleries, and artists alike are sharing tons of artwork online. *Hint: the Art League of OC is one of them!
Find art that makes you laugh – You're allowed to still laugh during times of crisis, and honestly you should. Watch a sitcom, listen to a podcast, look at memes (and text them to all your friends). Art can be a tool to shift your perspective, and lighten the mood.
Keep up with your favorite organizations online – This can be so empowering! Local businesses are tackling challenges with such poise and coming up with lots of creative solutions. Join in by supporting where you can: donate, order online, amplify their efforts by sharing on social media.
Make lists – to-do lists, grocery lists, people to check-in with, things to do once this is all over, favorite movies, playlists. Cross things off, send them to your friends, post them on a blog…
And of course:
Make art – This should be a given but it's worth repeating: art helps! And guess what: it doesn't even have to be good to be good for you. Holding something tangible, watching a piece evolve, it feels constructive and rewarding and that is pretty special (pandemic or not)